Frontline Blog
Big cities: Where big challenges, opportunities, and innovations converge
May 2022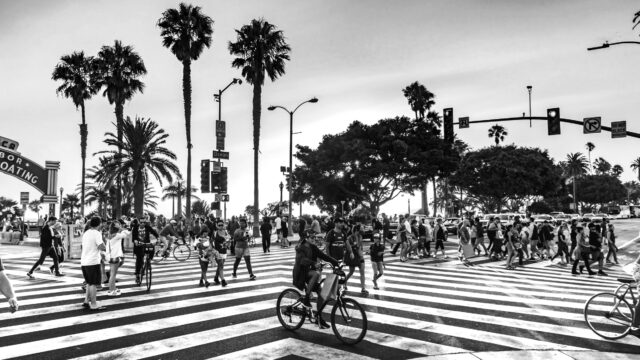 Cities are both drivers of our national economy and hotspots of inequity. Equitable public health is critical to cities' success. Health promotion therefore needs to be a primary priority in ALL city departments.
Most people in the US live and create community in cities. Over 80% of the U.S. population is estimated to live in cities.[i] In the nation's 35 largest urban areas alone, this amounts to nearly 62 million people, about one in five Americans.
Large cities and urban areas are unique in that they are where density and diversity meet; big cities bring together large numbers of people who come from an array of racial, ethnic, educational, and socioeconomic backgrounds. They are home to large employers, health systems, academic institutions, cultural destinations, and travel hubs. And as such, big cities are often drivers of local, regional, and national economies.
Just as density and diversity provide opportunities to bolster the health and quality of life among large swaths of people, the consequences of generations of structural inequities affect huge numbers of people and present challenges that make urban areas vulnerable to extreme disparities in resources, opportunities, and health outcomes. These disparities, if not addressed with urgency and in a systematic manner, threaten to undermine the immense value of our nation's cities. For instance, people in one neighborhood can expect to live 20 to 30 years longer than their neighbors who live just a few miles away, a disparity that can be traced back to historical systemic disinvestment of resources or through racist policies like redlining.[ii] This significant gap in life expectancy – which is particularly pronounced between Black and white communities and has widened because of the COVID-19 pandemic[iii] – is one of many health inequities that are multiplied and magnified within cities. These health inequities threaten the prosperity of cities. It is therefore critical that all city agencies take affirmative actions to support the health and wellness of their communities to increase and maintain their vibrancy. Health, therefore, should be a primary priority for every city department.
City government has a vested interest in improved public health outcomes including an increased ability to attract and retain employers and workers and improved livability for residents. City governments also have a growing interest in addressing critical public health challenges like community safety, overdose prevention, and a host of chronic diseases.
Historically, cities are where transformative public health innovations have taken root. From Baltimore's efforts in 2002 to ensure water quality to NYC removing lead from paint a decade before the federal government to San Francisco removing flavored tobacco products from the market, cities have been, and continue to be, innovation hotbeds for health promotion. City-level policies and their associated outcomes have led the way for states and the federal government to follow suit, and the health of our entire population has benefited immensely from such advancements. As contemporary threats to the public's health, such as novel pathogens and climate change, continue to increase, so too must our efforts to ensure that cities have the resources and authority they need to continue to be innovation hubs. One of the biggest threats to ongoing innovation at the local level is state (and sometimes federal) pre-emption.
Learn more: How cities innovate on public health
---
[i] United Nations (UN) Population Division (2018) World Urbanization Prospects: The 2018 Revision; U.S. Cities Factsheet | Center for Sustainable Systems (umich.edu)
[ii] Large Life Expectancy Gaps in U.S. Cities Linked to Racial & Ethnic Segregation by Neighborhood | NYU Langone News
[iii] Reductions in 2020 US life expectancy due to COVID-19 and the disproportionate impact on the Black and Latino populations | PNAS; How to close the life expectancy gap between Black and white Americans – Vox