Frontline Blog
How Big Cities Promote Vaccine Equity
April 2022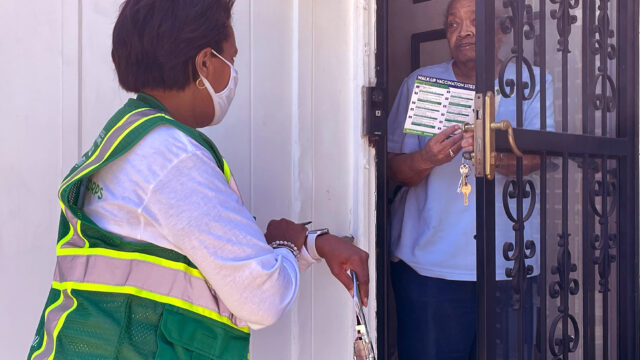 Many factors can stand in the way of vaccination access and acceptance, and these factors disproportionately affect people of color and people living in poverty. BCHC's 35 members have been leaders in promoting vaccine equity. Read on for some representative examples.
[Above: A Washington, D.C. public health worker goes door-to-door to provide vaccination information, one of many outreach strategies used to reach as many people as possible who were at the highest risk for COVID-19 and low vaccination rates. Photo courtesy of District of Columbia Department of Health.]
Chicago's Department of Public Health launched its Protect Chicago Plus program in February 2021 to improve vaccination rates in the 15 areas of the city most highly impacted by COVID-19 which was determined by a COVID-19 Community Vulnerability Index (COVID CVI). The COVID CVI relied not only on diagnosis, hospitalizations, and deaths as indicators, but also on risk factors such as obesity, crowded housing, and individual poverty. The city worked with community groups to identify convenient neighborhood settings and trusted organizations where Black and Latinx residents would be likelier to get vaccinated. Outreach included establishing 11 temporary clinics, 27 pop-up events, phone and text banking, and door-to-door canvassing. By early May, these 15 communities went from 6 percent having had at least one dose of the vaccine to 50 percent. The work that began under Protect Chicago Plus continues through a new Healthy Chicago Equity Zones initiative.
Maricopa County Department of Public Health officials have been going door to door in at-risk communities in the Phoenix, Arizona, area to make residents aware of COVID-19 vaccine clinics. At-risk communities have high COVID-19 rates and/or low vaccination numbers. People living in these communities may have barriers to vaccine access such as a lack of transportation. The department has also been running three mobile units to provide COVID-19, flu, and other vaccinations to those who have limited access to transportation, internet, or medical facilities. Since many people in at-risk communities have limited access to preventative medicine, the mobile units have also provided wellness checks and mammograms.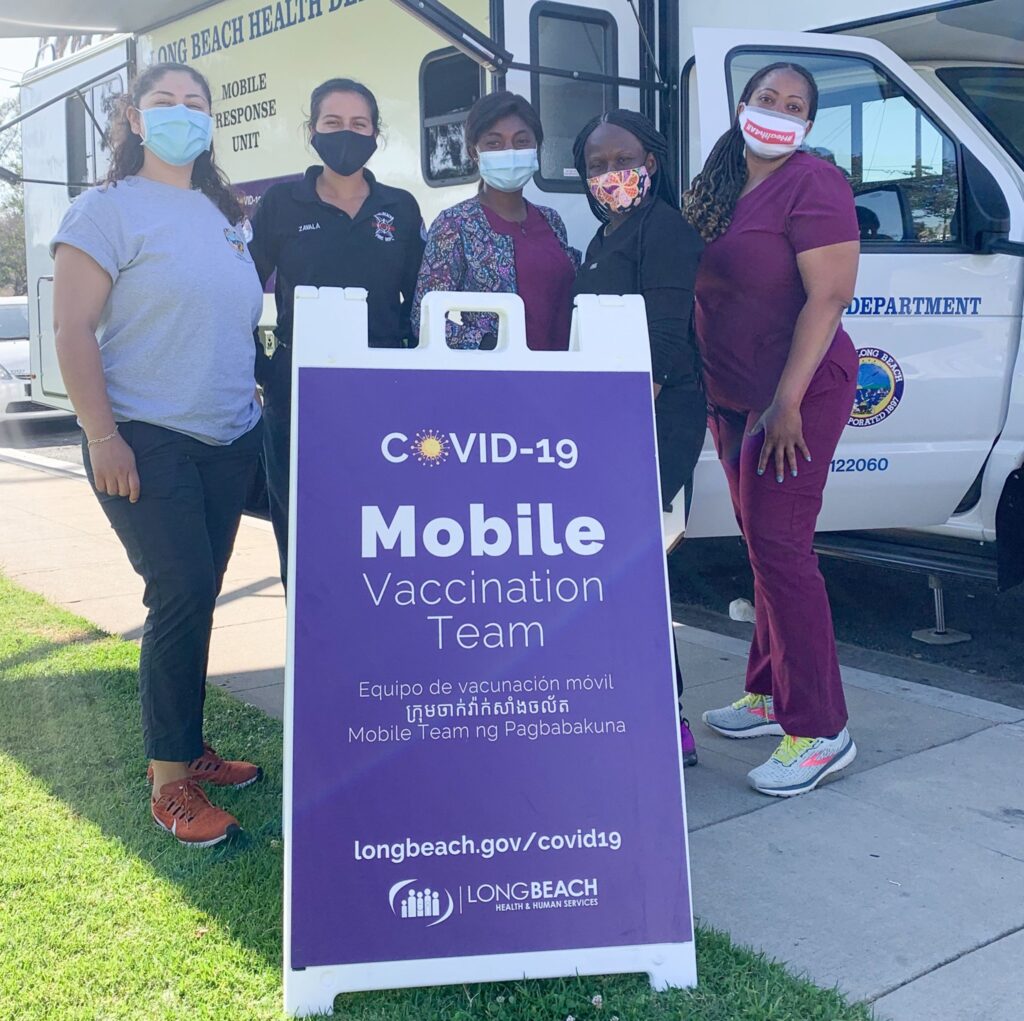 Public Health–Seattle & King County developed their "Principles for Equitable Vaccine Delivery" in response to disproportionate COVID-19 infection, severe illness, and deaths and based on their deep commitment to equity and social justice. They set specific goals and strategies to vaccinate at least 70 percent of eligible adults across all racial and ethnic groups and created a dashboard to track progress. They placed the highest-volume vaccination sites in south King County to better serve an area with fewer health care providers and more impact from COVID-19. Community navigators and partners worked tirelessly to reach out to trusted community and faith-based organizations to help people sign up for appointments and get transportation to vaccination sites.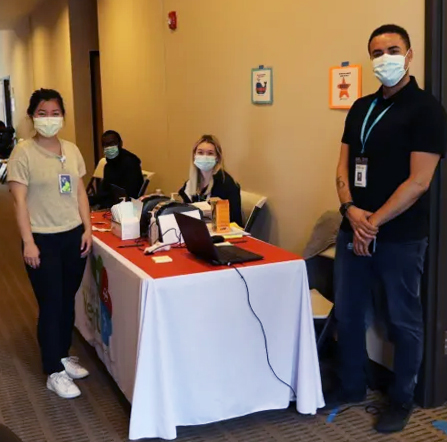 The San Francisco Department of Public Health has provided thousands of vaccine doses by appointment to groups of people in their homes or workplaces. Homebound individuals, seniors in residential facilities, and those living in permanent supportive housing have all benefited from the "Vax to You" program. The department also hired multilingual staff to reach out to underserved communities via telephone calls and text messages after finding that their web-based vaccine sign-up form was getting little uptake.
In February 2022, Austin Public Health in Texas began moving away from mass vaccination events to focus on mobile vaccine clinics. "This is an exciting opportunity to expand our outreach to communities where vaccination rates could use a boost," said Adrienne Sturrup, the department's director.