Frontline Blog
How big cities are addressing the drug overdose epidemic
May 2022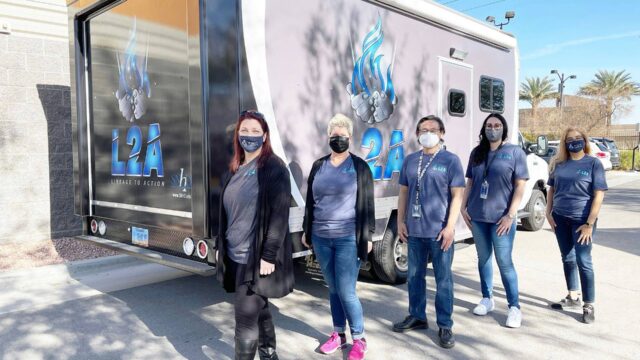 The U.S. recently realized another grim milestone: 107,000 deaths from drug overdose in 2021—about 4/5ths of those involved opioids. That's the highest death count ever recorded: 15% higher than 2020, which in turn had 30% more drug-related deaths than 2019. Here are some of the ways big city public health departments are working to prevent and mitigate the epidemic that's been exacerbated by the pandemic.
[Above: In January 2021, Southern Nevada Health District (Las Vegas) launched its L2A – Linkage to Action mobile unit program to bring sterile syringes, medication-assisted treatment, naloxone, overdose education, and more to communities experiencing high rates of substance use disorder.]
Harm Reduction and Education
While the health care system works to treat substance use disorder (SUD), public health departments focus both on preventing SUD and on mitigating the most harmful effects of substance misuse. In the past two years, many big city health departments have boosted their harm reduction strategies by distributing naloxone (an FDA-approved medication that can rapidly reverse the effects of an opioid overdose) and fentanyl test strips (which show if a drug has been laced with the powerful synthetic opioid), as well as educating people on how to use these tools properly.
Southern Nevada Health District (SNHD), which serves Las Vegas and the surrounding county, provides fentanyl test strips through its pharmacy and trains community partners and agencies to distribute the strips. SNHD also runs mobile units (pictured above) that provides people who are struggling with SUDs with overdose education, naloxone, and referrals to essential services such as housing, mental and behavioral health care services, medical care, and transportation.
Like SNHD, the Detroit Health Department has partnered with community organizations to establish a broad harm reduction network across the city, distributing naloxone and test strips, collecting prescription opioids for safe disposal, and providing mental health and overdose prevention services. In 2021, Detroit also distributed 150,000 syringes, a strategy that significantly reduces infectious disease transmission.
Public Health – Seattle & King County conducted focus groups with people who had had exposure to fentanyl to create its highly successful Laced and Lethal social media campaign that launched in March 2021. The campaign focuses on providing important information to kids and adults about fentanyl in a way that doesn't stigmatize and therefore alienate the audience. To date, the campaign has had more than 300,000 engagements and has generated more than 3,000 mail orders for free naloxone kits.
Philadelphia decriminalized fentanyl test strips in August 2021. Since then, the Department of Health has held 45 pop-up events across the city to distribute free kits containing 10 fentanyl test strips and instructions for ordering free naloxone and test strips by mail. At the events, public health workers conducted live demonstrations of how to use the test strips using a Tums, water bottle cap, and sterile water. The department also established a "Narcan Near Me" tower at a library in West Philly that provides free naloxone and other overdose reversal supplies 24 hours a day, seven days a week. This is the first of two towers to be installed in Philadelphia, and the first in a major U.S. city. The tower acts as a locker, containing 22 overdose prevention kits that can be accessed by tapping the touch screen on the front of the device. In an emergency, the kiosk can connect directly to 911. Each kit contains two doses of naloxone, gloves, face shields, and a visual aid on how to administer the medication.
In September 2021, the Denver Department of Public Health and Environment began offering free fentanyl testing strips and naloxone to city residents. From mid-February to mid-April this year, the department received more than 4,700 orders. Last month the city's sheriff department also launched a 90-day pilot Harm Reduction Release Bag Program. Every individual released from the downtown detention center or county jail will receive a bag containing a dose of naloxone, five fentanyl test strips, and information about medication assisted treatment services and how to get additional naloxone doses.
In addition to providing test strips and naloxone, New York City's Department of Health and Mental Hygiene went a step further last November by establishing the nation's first Overdose Prevention Centers (OPCs) at two sites in Washington Heights and East Harlem. OPC services have been used over 14,000 times by more than 1,000 individuals. As of April 3, staff have averted more than 230 overdoses since opening. OPCs also provide wraparound services for people who use drugs, connecting them to social services, care, and treatment.
Emergency Response
Substance use disorder often has strong ties to mental health issues, and big cities have also been expanding mental health services in innovative ways. Denver launched its STAR program (Support Team Assisted Response) just a few months into the pandemic. The program sends, when appropriate, mental health clinicians paired with EMTs instead of police on 911 calls. Thanks to early successes, Denver has expanded the program; it has three vans and eight teams operating from 6 a.m. to 10 p.m. seven days a week and has responded to more than 2,200 calls that otherwise would have been dispatched to police.
Since the murder of George Floyd, Minneapolis has been under particular scrutiny for its public safety tactics. In August 2021, the Minneapolis Health Department contracted with a majority Black-owned business to operate its Behavioral Crisis Response teams. The mobile units, staffed by licensed mental health professionals, are dispatched by 911 for behavioral health situations. Dispatchers only send police if they determine that a scene needs to be cleared first or if the response team requests police assistance.
Columbus established a Mobile Crisis Response Unit in 2018 and has increasingly called upon social workers from the city public health department when a 911 call involves a mental health or substance use crisis.
Federal Resources and Policy Changes Needed
To continue providing and expanding upon these life-saving programs, city health departments need additional resources and policy change from the federal government. The Big Cities Health Coalition, a forum of 35 of the nation's largest health departments, advocates for the following:
Expansion of medications for opioid use disorders (MOUD) and elimination of waiver and training requirements for providers of MOUD as outlined in the Mainstreaming Addiction and Treatment Act being considered in both houses of Congress
Greater access to Naloxone, an overdose reversal drug, in part through funding streams that local health departments can use for purchase.
Congress to approve $713 million in FY23 for CDC's Opioid Overdose Prevention and Surveillance requested by the Biden Administration.
Congress to include directive language to ensure these dollars reach the local level in those communities that are not directly funded, as well as have CDC and HHS better track and report publicly state expenditures.
Congress to approve $150 million in FY23 for CDC's Infectious Diseases and the Opioid Epidemic program.