Frontline Blog
Drug overdose deaths in big cities rose more than threefold in past decade
May 2023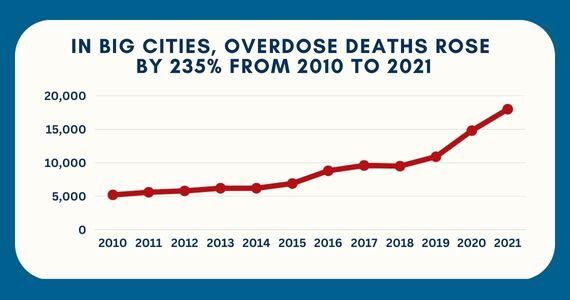 New data shows that lives lost to drug overdoses in big cities increased more than three-fold over the last decade, with the impact felt most disproportionately by Black Americans.
In that same time frame, synthetic opioids went from causing 1 in 10 drug overdose deaths to 9 in 10, largely because of the introduction of fentanyl.
These and other newly available 2021 data points may be found on the Big Cities Health Inventory (BCHI), an open-source platform providing health metrics for BCHC's 35 member cities (or about 1 in 5 Americans). BCHI is a collaborative project of BCHC and the Drexel Urban Health Collaborative.
The findings highlight why decriminalization of addiction and support for trauma-informed harm reduction programming are urgently needed in big cities across the U.S.
Harm reduction programs save lives by reducing infectious disease transmission and making health-related services available without requiring that people stop using drugs as a precondition of support. Examples of harm reduction programming are needle exchanges and safe sharps disposal, overdose prevention through naloxone distribution, and facilitating access to prescription opioid agonists such as methadone and buprenorphine.
The harm reduction model acknowledges drug users' individual autonomy and dignity and aims to reduce stigma around addiction, because stigma is a powerful deterrent to taking positive steps to safeguard one's health. In fact, recent research has shown that treating opioid use disorder with buprenorphine through telehealth services is safe, increases access, and reduces stigma.
To stay up-to-date on the Big Cities Health Inventory, follow BCHC and the Drexel Urban Health Collaborative on Twitter or subscribe to the BCHI newsletter.
The Big Cities Health Inventory data platform is primarily funded by the U.S. Centers for Disease Control and Prevention through a cooperative agreement with the National Association of County and City Health Officials. The views expressed on the data platform do not necessarily represent the views of the funders.