Press Release
Survey of big city health department staff reveals acute stress
February 2023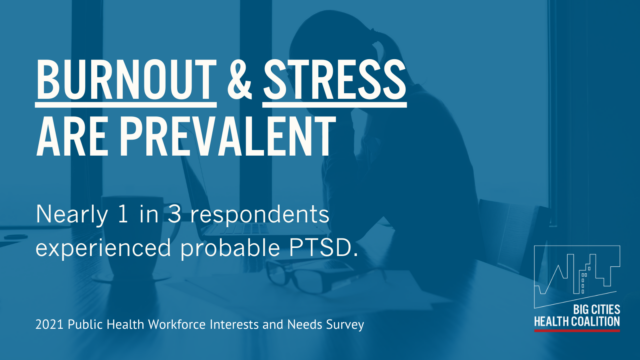 Almost 1 in 3 report probable PTSD; public health professionals also show commitment and diversity
WASHINGTON, D.C. – Burnout and stress are up sharply among governmental public health workers, with 29% reporting symptoms that indicate probable Post Traumatic Stress Disorder (PTSD), according to a new analysis.
The findings by the Big Cities Health Coalition (BCHC)—a forum for the leaders of America's largest metropolitan health departments to exchange strategies and jointly address issues to promote and protect the health and safety of the more than 61 million people they serve—are based on data from the 2021 Public Health Workforce Interests and Needs Survey (PH WINS). The survey describes workplace perceptions, training needs, COVID-19 efforts, and well-being.
"From delivering a rapid response, to infectious disease outbreaks, to providing the essential expertise and know-how that keep our communities safe, public health workers are incredibly valuable assets," said Chrissie Juliano, BCHC's executive director.
"The contributions of front-line governmental public health workers were especially clear during the height of the pandemic, when they saved countless American lives. This commitment to public service came at a steep toll to the mental health and well-being of some of these public servants. It is absolutely essential that they are able to continue working for the communities they serve in a sustainable way. I urge policymakers to find new ways to support these workers, who confronted one of the darkest times in our nation's history with great skill and commitment to ensure they can keep protecting and promoting the public's health. Our nation's well-being depends on it."
Key findings
Burnout and stress are real; almost 1 in 3 respondents experienced probable PTSD.
Burnout was reported as an issue by 43% of respondents, up from 25% in 2017. Stress was reported by 39%, up from 25%. Overall, 29% of the BCHC workforce reported three out of four symptoms that indicate probable Post Traumatic Stress Disorder (PTSD). BCHC respondents were slightly more likely to report probable PTSD than those at state or other local health departments.
Some staff reported harassment and poorer mental health since the pandemic began.
Despite the demands of the COVID-19 pandemic, three-quarters of the BCHC workforce said their mental or emotional health was "excellent," "very good," or "good." A quarter rated their mental or emotional health as "poor" or "fair." Thirteen percent felt "bullied, threatened, or harassed" and 27% still felt their "public health expertise was undermined or challenged." Mental health and emotional well-being varied by age, gender, and race/ethnicity, with staff younger than 31 more likely to report poorer mental health, harassment, and probable PTSD symptoms. White staff were somewhat likelier to report fair/poor mental health (29%) than their BIPOC colleagues (23%). Gender non-conforming staff reported considerably worse mental health than their colleagues, with 47% saying their mental health was fair/poor compared to 25% of women and 22% of men.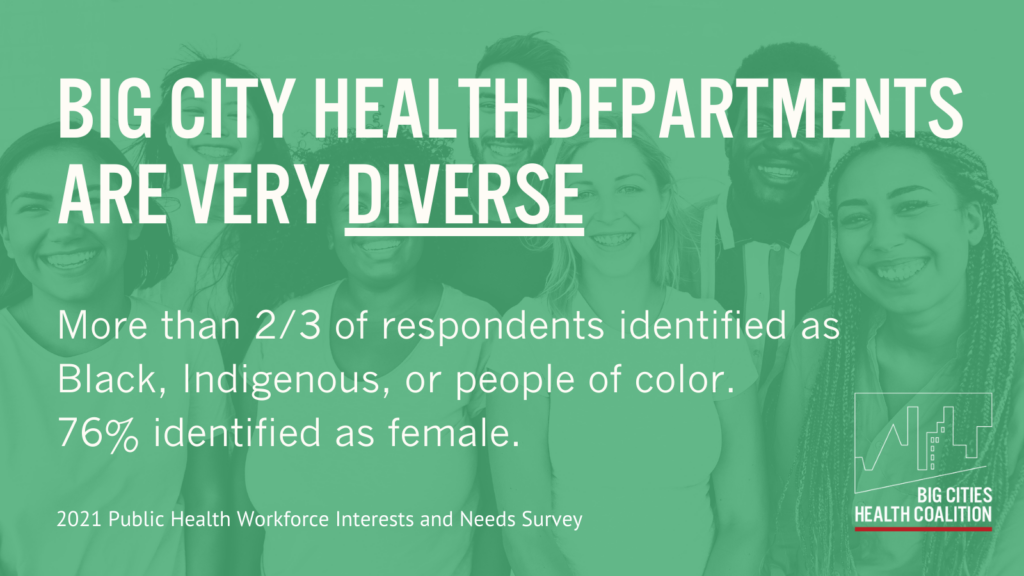 The staff of big city health departments are incredibly diverse.
In both survey years, more than two-thirds of respondents identified as Black, Indigenous, and people of color.
Respondents were mostly female, including at the most senior levels, and few were very young.
The age and gender distribution of the BCHC workforce remained relatively stable between survey years. In 2021, 76% self-identified as women. Further, nearly three-quarters of supervisors, managers, and executives self-identified as women. More than half the respondents were 45 and older.
The percentage of tenured, permanent staff fell, likely due to the influx of pandemic response hires.
Those employed directly by health departments fell to 85% in 2021 from 95% in 2017. Likewise, the percentage of contractors and temporary staff increased between 2017 and 2021. As such, the 2021 BCHC workforce was less tenured than their 2017 counterparts: staff reporting 0–5 years tenure in their current agency was 51% in 2021, versus 43% in 2017.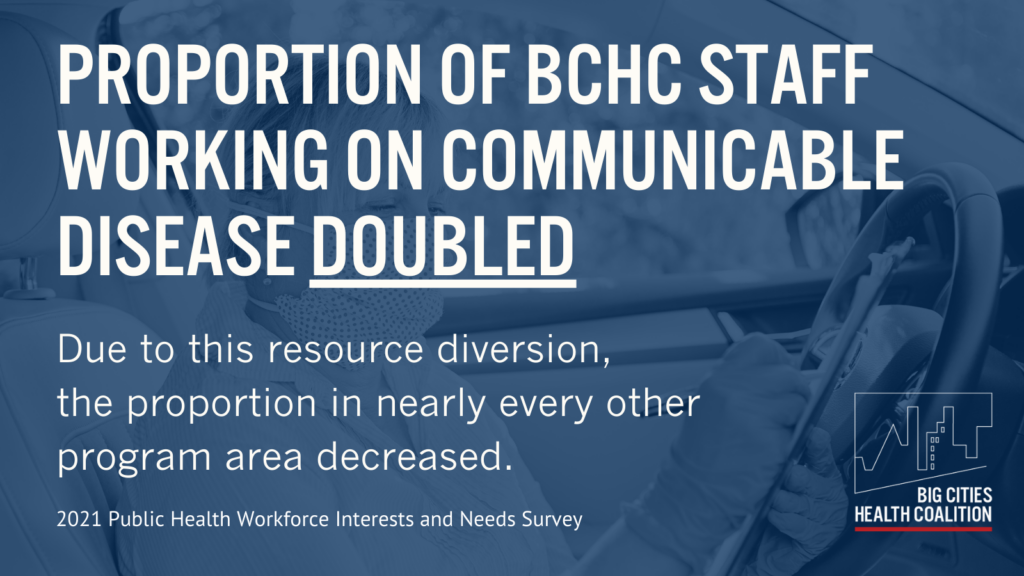 The proportion of the BCHC workforce who worked on communicable disease more than doubled.
The percentage of staff working in this area rose from 14% in 2017 to 29% in 2021, while the proportion of staff in nearly every other program area decreased from 2017 to 2021.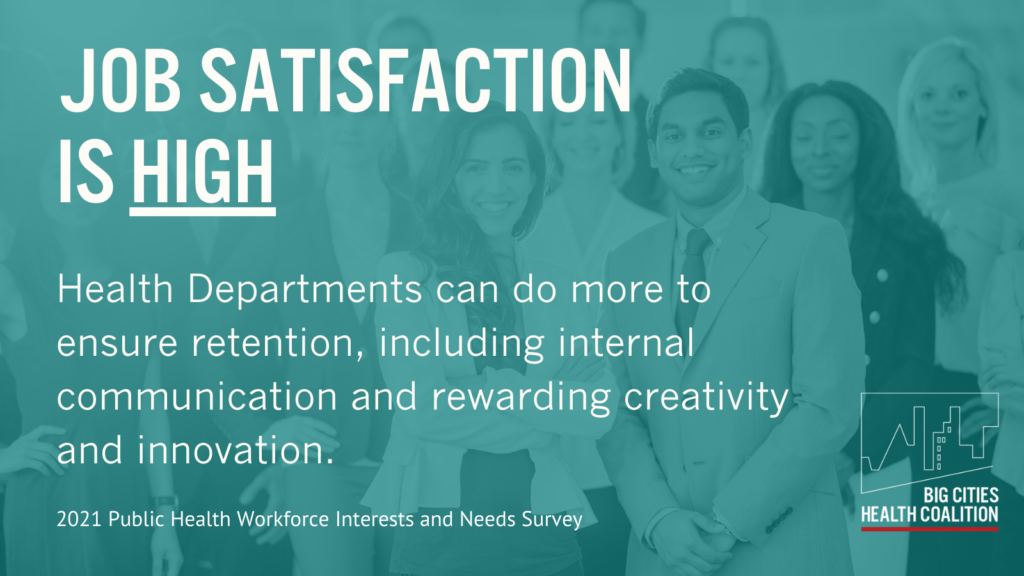 Most respondents reported high satisfaction, but more can be done to ensure retention.
The majority of the BCHC workforce was satisfied with their job (76%) and organization (65%). However, the percentage who intend to leave their organization within the next five years (excluding retirements) increased slightly between 2017 and 2021. Health departments have room to grow in regards to communications between leadership and staff and rewarding creativity and innovation.
The Survey
PH WINS, a survey conducted by the de Beaumont Foundation and the Association of State and Territorial Health Officials (ASTHO), is designed to help leaders and key stakeholders better understand the public health workforce's strengths and gaps, and can guide future investments to improve the nation's ability to respond to community health needs.
The 2021 PH WINS was sent to staff at 29 BCHC member health departments, garnering 44,732 individual responses. A similar survey was fielded in 2017, allowing researchers to draw comparisons.