Frontline Blog
"Unprecedented" investment in the nation's public health infrastructure goes to 107 local, state, and territorial health departments
December 2022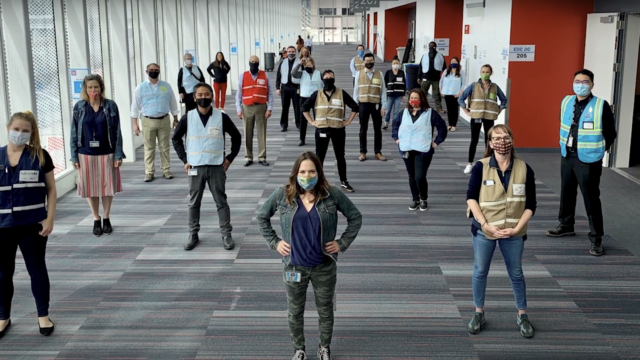 On November 29, the U.S. Centers for Disease Control and Prevention (CDC) awarded $3.2 billion to strengthen public health infrastructure at all levels of government across the nation. This first-of-its-kind grant program not only provides flexible funding but also does so directly to 49 large local health departments, not just their state and territorial counterparts. These federal funds will help ensure a total of 107 state, territorial, and local health departments have the people, services, and systems they need to promote and protect health in their communities. Everyone in the U.S. lives in a jurisdiction that will receive funding under this five-year grant (OE22-2203).
Of the 49 local jurisdictions (city and county health departments) that directly received grant awards, 34 are members of Big Cities Health Coalition (BCHC). BCHC member awards totaled more than $642 million, or 20 percent of the total grant amount.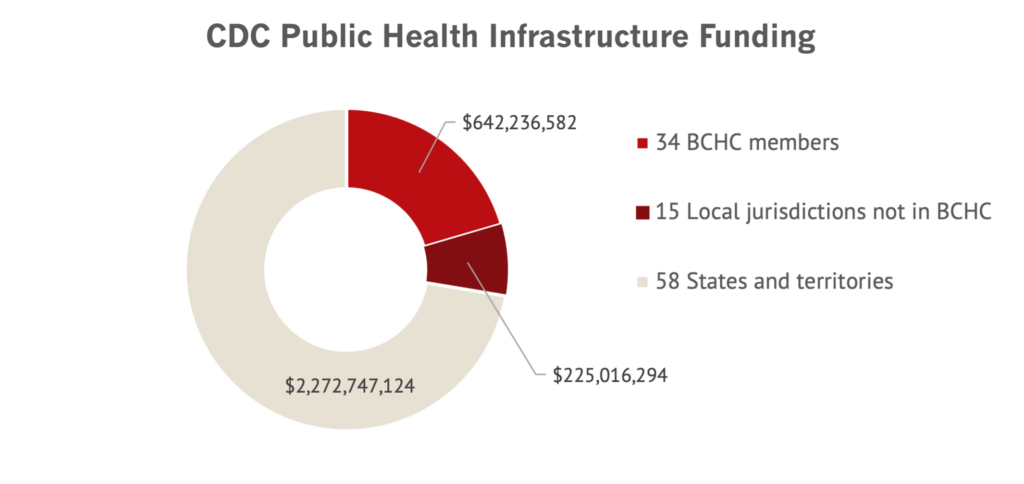 Part of what makes these federal awards unprecedented is that they were delivered directly to local health jurisdictions. (Typically, federal funding comes to local health departments through their state health agencies.) CDC seeks to award more than $4 billion over the five-year grant period, should Congress continue to provide funding through the public health infrastructure line in CDC's budget. The dollars are meant to continue building a stronger, more resilient public health system that is ready to face future health threats and ongoing challenges.
"This funding is long overdue and a much-needed shot in the arm for big city health departments," said Chrissie Juliano, MPP, BCHC's executive director. "Our members have an especially acute need to not only maintain their emergency preparedness but also attend to enduring public health challenges like substance use and overdose, and violence and structural racism."
Juliano added: "We greatly appreciate all the hard work that made this possible – from CDC as a whole, the Center for Surveillance, Epidemiology, and Laboratory Services (CSELS) in particular, and also its supporters in Congress – in particular, Senators Patty Murray (D-WA) and Roy Blunt (R-MO) and Representatives Rosa DeLauro (D-CT) and Tom Cole (R-OK). We are also grateful to those Senators who championed funding public health infrastructure through their support for the Public Health Infrastructure Saves Lives Act (S. 674)."
CDC's public health infrastructure grant program focuses on boosting governmental public health in the following areas:
Workforce: Recruiting, training, retaining, and supporting a larger and more diverse public health staff at the state/territorial and local levels.
Foundational capabilities: Strengthening organizational system and processes.
Data modernization: Creating a more modern and efficient data infrastructure that enables jurisdictions to make public health data more readily available.
Additionally, the Association of State and Territorial Health Officials (ASTHO), the National Network of Public Health Institutes (NNPHI), and the Public Health Accreditation Board (PHAB) received funding to provide training, evaluation, and communication support to jurisdictions as they put the new funding to work. BCHC looks forward to partnering with these organizations to provide technical assistance and other such support to its members.
The total $3.2 billion that CDC awarded includes $3 billion from the American Rescue Plan Act for jurisdictions to recruit, retain, and train their workforce. The funding also includes $140 million from a new appropriation for jurisdictions to strengthen and revitalize their infrastructure. "State, local, and territorial health departments are the heart of the U.S. public health system, and the COVID-19 pandemic severely stressed these agencies, which were already weakened by neglect and underinvestment," said CDC Director Rochelle Walensky, MD, MPH, in the Agency's press release. "This grant gives these agencies critical funding and flexibility to build and reinforce the nation's public health workforce and infrastructure and protect the populations they serve. We are meeting them where they are and trusting them to know what works best for their communities."