Frontline Blog
Innovative Policies to Reduce Tobacco Use in Big Cities: Philadelphia
March 2020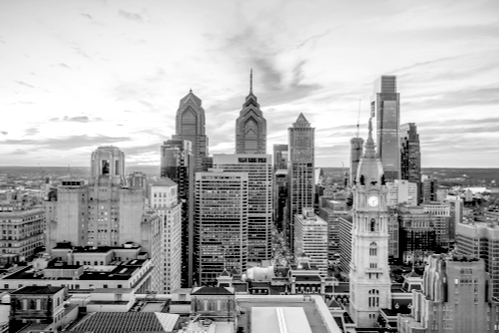 By Ryan Coffman, MPH, CHES, CTTS-M, Tobacco Policy and Control Program Manager, Philadelphia Department of Public Health
On December 5, 2019, all 17 members of Philadelphia's City Council voted unanimously to pass two important tobacco control bills. The first (Bill 180457) bans the sale of all flavored cigarillos (little cigars) and roll-your-own tobacco in the city. The second (Bill 190804) restricts the sale of flavored and high-nicotine e-cigarettes to "adult-only" establishments, as licensed by the Philadelphia Department of Public Health (PDPH). All other retail establishments [1] will only be allowed to sell e-cigarettes that have lower (normal) nicotine concentrations and are tobacco- or otherwise un-flavored. Philadelphia is the first locality in the nation to restrict the sale of high nicotine e-cigarettes (defined as greater than the 20mg/ml).
PDPH is generating a list of unrestricted products that can be sold in the city. Tobacco retailers will be able to submit additional products to be considered for sale. The passage of these new bills into law confirms the city's continued commitment to promoting health and reducing adult and youth tobacco use among the residents of Philadelphia.
As in many localities around the country, the widespread availability of e-cigarettes and cigarillos in Philadelphia is threatening to reverse years of hard-fought progress to reduce tobacco use. Without the U.S. Food and Drug Administration (FDA) exercising its full regulatory authority to clear these products from the market, many state and local jurisdictions like Philadelphia are taking direct action to protect their populace from these extremely harmful products.
To achieve passage of this landmark legislation, a dedicated and diverse group of advocates comprised of youth groups, medical professionals, school officials and historic African American sororities and faith organizations spoke in a unified voice about the importance of protecting the city's youth, while City Council demonstrated their resolve and vision to protect the city's kids.
A brief education and warning phase for the laws will precede full implementation with ticketing for the sales of restricted flavored cigarillos beginning on February 18, 2020, and ticketing for the sale of restricted flavored and high-nicotine e-cigarettes bill beginning on June 18, 2020. A $250 citation will be issued for each instance of selling restricted products. Tobacco retailers with multiple citations will have their tobacco retail permit revoked. Pre- and post-implementation evaluation will be conducted to fully determine the impact of these new laws in the city, and to point the way for other localities considering similar legislation.
These new laws will protect youth and other vulnerable populations from the harms of current and emerging tobacco products and are viable policy approaches for other jurisdictions to adopt.
---
[1] On 12/20/19, the FDA announced a nationwide increase in the legal purchase age of tobacco products from 18 to 21 years of age effective immediately.