Frontline Blog
More than the ACA: We Can't Stop Fighting Now
April 2017
By Dr. Oxiris Barbot, First Deputy Commissioner, NYC Health Department
This op-ed originally appeared on huffingtonpost.com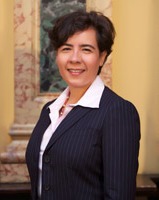 Since the start of the new presidential administration, the onslaught of policies and executive orders have been met with outcries from communities, organizations and elected officials. In the medical community, there was an almost unprecedented bipartisan opposition to the White House's proposed American Health Care Act. To some, the protection of the Affordable Care Act has given us a rare time to celebrate, rest and regroup.
Now is not that time.
Not one of us should have the delusion that an insurance card will be a game changer when it comes to addressing longstanding and dire health inequities. If we truly want to ensure America's health, activists, physicians and medical organizations can't just mobilize for preservation of the Affordable Care Act. We must respond with equal vigor to immigration reform, housing quality and segregation, civil rights and other policies that could shape the nation for generations. When 80 percent of health is determined by the context of our lives, confining advocacy to access to medical care is reckless and irresponsible.
In a brave new world, here's how we move forward:
#1 Collect Data for Action
Medicine and health rely on facts. There can be no alternatives. The need to collect robust data and shape the narrative of health has never been more urgent. By quantifying the human toll of defunding Planned Parenthood, reducing SNAP benefits through the Farm Bill and block-granting Medicaid, we proactively treat more patients than a doctor could during a shift in the ER, or an entire career.
At the New York City Health Department, our data-driven health equity blueprint, Take Care New York 2020, guides our programs, policies and investments to improve overarching population health indicators—premature mortality, infant mortality and self-reported health status. We track these indicators because they plainly tell us how well our society is keeping people from dying before their time, protecting the sanctity of childhood and supporting residents in not only living, but thriving. As importantly, we track disparities within indicators over time to learn more about the hardwired social conditions that perpetuate inequities.
While scientific discoveries and evidence-based approaches form the foundation of medicine, they remain inadequate in wholly addressing the issues of the unquantifiable human experience. Letting data and test results speak for themselves without context robs us of the imperative to bear witness to the brutality inflicted on our communities by repressive and oppressive policies.
#2 Work with Movements and Across Issues
Government shapes health through legislation and regulation, but social justice movements influence the norms upon which legislation and regulation are based. Access to health insurance isn't the only health issue.