Frontline Blog
Innovative Policies to Reduce Tobacco Use in Big Cities: Boston
April 2020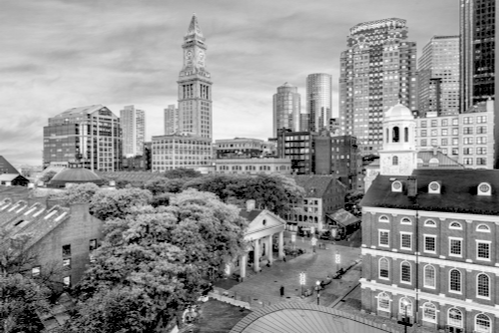 By Nikysha Harding, Tobacco Control Program Director
Last November, the Boston Board of Health approved changes proposed by Mayor Martin J. Walsh and the Boston Public Health Commission (BPHC) aimed at addressing vaping and tobacco use among youth in Boston. The amendments prohibit (1) the sale of mint and menthol nicotine and (2) tobacco products in convenience stores. In addition to removing the menthol exemption, the amendments strengthen retailer age compliance checking requirements, requiring all tobacco and nicotine retailers to check ID before sale, regardless of the apparent age of the customer.
"What we are seeing now with the explosive expansion of vaping products risks reversing decades of gains in reducing youth tobacco use," said Boston Board of Health Chair Manny Lopes. "When it comes to local tobacco control, data shows strong policies work. I believe we are taking important steps to prevent Boston's youth from entering into a lifetime of nicotine and tobacco dependency."
The regulatory amendments also seek to address long-standing disparities in tobacco use patterns and associated mortality from diseases such as heart disease, cancer and stroke. BPHC researchers found that among adults in Boston, black adults suffer the greatest burden of tobacco-related mortality of any ethnic or racial group. Tobacco use is a major contributor to the three leading causes of death among African Americans – heart disease, cancer and stroke.
Mayor Walsh asked BPHC staff to present the Board of Health with local public health data and a permanent regulatory response in response to both the long-standing issue of menthol tobacco use as well as the rapidly emerging issue of youth nicotine use and vaping. "I believe that now is the time to act, and I applaud the Board of Health for taking action to ensure Boston has some of the strongest regulations in the country to protect our young people," said Mayor Walsh. "Teen vaping is an epidemic that is particularly alarming because we know that nicotine use at a young age can have the power to lead to a lifelong dependency. The data is undeniable in showing that these amendments would save lives."
The proposed amendments were presented at the Board of Health meeting in September. It was followed by resident engagement and a public comment period, which ran from September to November 2019. During that time, 210 total comments were received. Retailers have until June 1, 2020 to implement flavored tobacco restrictions. Flavored nicotine restrictions and other proposed changes go into effect immediately.
Boston continues to be a leader at taking steps at the local level to restrict youth access to tobacco and other nicotine products. In 2011, Boston included e-cigarettes and vaping products, in its regulations, making it among the first jurisdictions in the United States to regulate e-cigarettes and other nicotine products on equal footing with tobacco. In 2015, the Board of Health increased the sales age for nicotine and tobacco products to 21 and restricted the sale of the majority of flavored tobacco and nicotine products to adult-only tobacco retail locations. After the Board's flavoring restrictions were implemented, Boston public high school current vaping rate decreased from 14.5 percent in 2015 to 5.7 percent in 2017, creating strong evidence of effective policy-making to reduce youth tobacco use and a pathway for other jurisdictions to follow.
To read more in this series of innovations in tobacco policies in big cities, see what Philadelphia did here.