Chicago health commissioner: Big Tobacco is targeting our youth and we must stop them
May 2018
By Dr. Julie Morita, Commissioner, Chicago Department of Public Health
This post originally appeared in The Hill Newspaper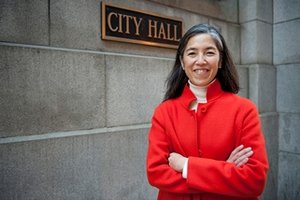 The U.S. Food and Drug Administration recently announced a crackdown on e-cigarette sales to minors, but before then, the city of Chicago had already taken matters into its own hands. The City Council passed an ordinance to require tobacco dealers to post warning signs at their doors about the health risks of e-cigarettes and other tobacco products. These signs, once designed and distributed, will also contain quit-line numbers to help our residents beat a nicotine addiction.
The ordinance, introduced by Mayor Rahm Emanuel, reflects the nation's growing understanding that e-cigarettes, also known as vaping products, are the latest effort by Big Tobacco to get our kids hooked on a risky and potentially deadly habit.
To be sure, our country has made strides fighting tobacco use, with declining rates of smoking and lung cancer deaths. In Chicago, we have reduced cigarette smoking rates by high school students from 13.6 percent in 2011 to 6.0 percent today, a record low.
Yet, according to the Centers for Disease Control and Prevention Youth Risk Behaviors Survey the rate of cigar smoking (7.2 percent) and e-cigarette use (6.6 percent) is now higher than cigarettes among Chicago high school students. Even more concerning, 14.5 percent of students report tobacco use of any kind. Tobacco remains the leading cause of preventable disease, disability and death in the United States.
E-cigarettes hit the market in 2004 and since then we've seen their use rise dramatically. Nearly all e-cigarettes use flavored liquids that attract young people with names like Gummy Bear, Cherry Crush and Crème Brulee. Most e-cigarettes contain nicotine and harmful toxins, making them addictive and dangerous to youth, whose developing brains are more susceptible to addiction. Other tobacco products such as cigarillos and dip, which are known to cause cancer, also come in flavors that entice youth.
Big Tobacco knows that marketing that focuses on flavors is effective at getting youth to start using. Such marketing, as well as tactics like cheap prices, coupons and a barrage of misleading messages, have led the public, especially young people, to vastly underestimate the health and addiction risks of these products.
This misconception must be taken seriously, as tobacco use almost always begins in adolescence and young adulthood. The problem is worsened by the fact that some of today's most popular vaping products, like JUUL, are designed to look like USB flash drives, making them easy for youth to conceal.
Unfortunately, the research is now clear that the use of e-cigarettes by youth is associated with an increased likelihood of progressing to cigarettes. For young people, tobacco use begets more tobacco use.
In Chicago, knowing that prevention will save lives for generations, we have confronted Big Tobacco's ever-evolving tactics through a robust suite of policies. Prior to our recent warning sign ordinance, we raised the purchasing age from 18 to 21, made cigarette prices among the highest in the nation, banned tobacco discounts and required that clerks ringing up tobacco sales be at least 21.
We have targeted vaping by banning the use of e-cigarettes in public facilities, prohibiting the sale of flavored tobacco (including menthol) within 500 feet of high schools and becoming the first big city to impose our own e-cigarette tax.
Cities and states across the country should follow suit. And, the FDA should act immediately to ban youth-attracting flavors in all tobacco products, prohibit e-cigarette marketing to youth and reverse its 2017 decision to delay vaping regulation and allow risky products to remain on the market without undergoing agency review.
The fight against Big Tobacco isn't over, despite our nation's gains. Every level of government must enact bold, transformative solutions to meet the emerging threats to public health and equip young people to reject tobacco, once and for all.