Frontline Blog
Working across agencies to address substance use challenges among people experiencing unsheltered homelessness in Boston
June 2022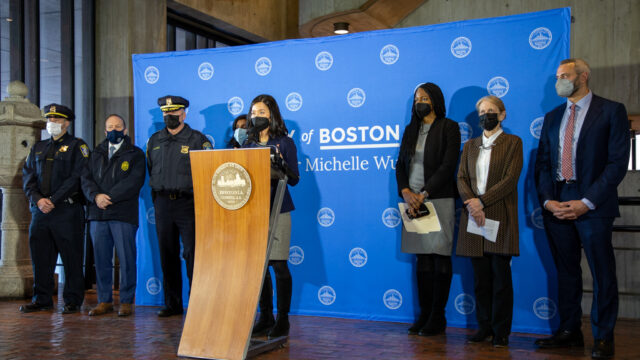 BCHC's Urban Health Agenda urges city agencies and civic organizations to collaborate more intensively on issues that affect public health. This case study spotlights how Boston's Public Health Commission worked with multiple city offices and people experiencing homelessness to provide appropriate shelter.
[Pictured above: Mayor Michelle Wu at a January 2022 briefing about the housing built for people formerly living outside at the corner of Mass and Cass in Boston. Boston Public Health Commission Executive Director Bisola Ojikutu stands second from right.]
Historically, Boston has a low unsheltered homeless population. Though many people experiencing homelessness and living with severe mental illness are unsheltered, usually only about 1–2% of total people experiencing homelessness are unsheltered.
In October 2014, due to serious safety concerns, the Long Island bridge was closed, and 800 substance use and shelter beds on Long Island were relocated to Boston's mainland.
The opioid epidemic, the housing crisis, the COVID-19 pandemic, and the legacy of the bridge closure together created acute public health and public safety concerns in the area known as "Mass & Cass," located at the intersection of Massachusetts Avenue and Melnea Cass Boulevard, including Boston Medical Center – the city's safety net hospital.
The Mass & Cass area experienced about 200 people on the streets at a given time throughout the day and a tent encampment sprang up in Spring 2021.
Boston had three different mayors in 2021, but after Mayor Michelle Wu was elected in November, she declared encampments would be abolished.
The city spearheaded a public health–led and equity-focused approach to create transitional low-threshold housing and shelter spaces.
Under Mayor Wu's leadership, public health experts lent precision in using data to determine and understand the cause or risk factors for public health issues, to identify effective strategies on a population-level scale, and to lead with person- and equity-centered care.
The city conducted a survey to better understand the needs of the neighborhood's unsheltered individuals and to ensure equitable and fair access to resources across race, ethnicity, and gender.
At that time, there were 145 individuals counted living in 77 tents or structures on public sidewalks. 95% of respondents listed "low-threshold housing" as a housing preference. These programs do not have strict entry requirements.
Mayor Wu appointed three cabinet-level chiefs to oversee the effort.
What became a collaborative process started with four departments, including the Mayor's Office of Recovery Services, BPHC's Recovery Services, Boston Emergency Medical Services, and Boston Police Department.
Now, 12 city agencies and the mayor's office are collectively referred to as the Coordinated Response Team (CRT), which is primarily focused on encampment prevention and control and sanitation.
Addressing unsheltered homelessness in Boston includes interventions under the purview of, and in settings that are maintained by, various city departments. Coordination has been essential. (The agencies that form the Boston Coordinated Response Team are listed below.)
Results and what's happening now
This initiative established six new "low-threshold sites" that can accommodate 180 individuals. Between January and April 2022, more than 150 individuals have moved into the new low-threshold shelter and housing sites.
Boston's Continuum of Care prioritizes the unsheltered for housing pathway and resources.
Service providers convene at least weekly to network and share promising practices and resources.
Strong state partnerships in substance use, mental health, and homelessness response.
The Mass and Cass Boston City Coordinated Response Team (CRT)
Boston Public Health Commission Homeless Services Bureau: Emergency shelter, client supports
Mayor's Office of New Urban Mechanics: Support new approaches to government and civic life
Public Works Department: Sanitation
Boston Fire Department: Fire prevention and control, overdose response
Boston Police Department Street Outreach Unit: Client engagement, law enforcement
Emergency Medical Services: Pre-hospital emergency care, overdose response
Mayor's Office: Convener and partnership coordination
Mayor's Office of Housing: Transitional and permanent housing resources
Boston Public Health Commission Recovery Services Bureau: Overdose prevention, recovery services, technical assistance, sharps collection, street outreach
Inspectional Services Department: Code enforcement, street response
Boston Public Schools: Maintenance of more than 130 school properties
Office of Neighborhood Services: Constituent and community engagement, manage 311 calls
Boston Parks Department: Manage more than 2,300 acres of park land/open space
Acknowledgement of this tremendous effort to the staff, outreach, and provider teams who played a critical role in all aspects of this initiative, including BPHC Recovery Services, BPHC Homeless Services, Boston Healthcare for the Homeless, Pine Street Inn, and Eliot Community Human Services. This work could not have been accomplished without their dedication and ongoing hard work in providing care and support to people who use drugs and experiencing homelessness. Special thanks to Bisola Ojikutu, Michele Clark, Gerry Thomas and Jennifer Tracey from the Boston Public Health Commission for contributing to this story.