Frontline Blog
Improving community safety in Chicago through pre-violence intervention
June 2022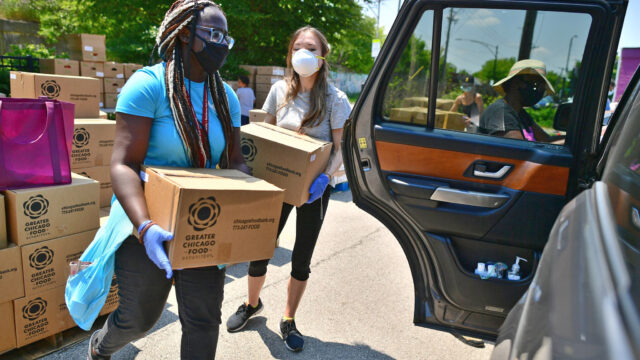 [Pictured above: The Racial Equity Rapid Response and Neighborhood Activation initiative partners with community organizations to address broader issues that contribute to violence.]
Chicago experiences high levels of gun violence. Even before the pandemic, while many other types of violence declined, gun-related violence remained high compared to some other major U.S. cities. Gun-related homicide is one primary driver of the racial life expectancy gap in Chicago, with Black Chicagoans making up about 80% of the city's shooting victims despite comprising less than 30% of the population. About half of the city's shooting victimizations occur in ten of the city's 77 community areas, and more than 90% of school-age Chicagoans killed by gun violence are disconnected from school.
We know the community conditions and vulnerabilities that drive crime and threaten safety and healing from traumatic events. Similarly, we have some evidence of what works. Productive community-building efforts, policy, systems, and environmental changes, as well as public health and public safety interventions often focus on protective factors including community cohesiveness; safe physical environments with access to safe transportation; school connectedness; and substance use disorder prevention and care. These efforts aim to produce positive impact and change at the block and individual levels.
Chicago's Community Safety Coordination Center (CSCC) is a new multi-agency coordination center that uses lessons learned from the city's coordinated response to the pandemic. Just like Chicago's COVID Vaccine Operation Center, the CSCC includes staff detailed from across city departments. It coordinates government (city, county, state) and nonprofit and philanthropic resources to holistically reduce violence in Chicago's communities. The CSCC is developing neighborhood activation strategies that include regular community-involved evaluation of hyper-local violence data, building on lessons from Chicago's Racial Equity Rapid Response Team (RERRT). The RERRT was launched from the mayor's office in the first weeks of the COVID-19 pandemic to listen to and immediately respond to community-identified needs in the city's hardest-hit Black and Brown neighborhoods, informed by local health care providers and weekly, hyper-local pandemic data.
Chicago's community safety strategy uses data and community-based decision-making to rapidly implement new place-based strategies, person-based strategies, and crisis response approaches, while addressing necessary long-term systemic transformation, including police reform, easy access to illegal guns, and systemic racism. The mayor's public safety cabinet includes leaders from every city department and agency. Every city department and agency has also been required to add programs, initiatives, or strategies to the community safety framework and has been asked to evaluate and alter programming, where possible, to prioritize investments in the highest-need neighborhoods, to focus on the highest-risk individuals, and even the highest-risk times of day.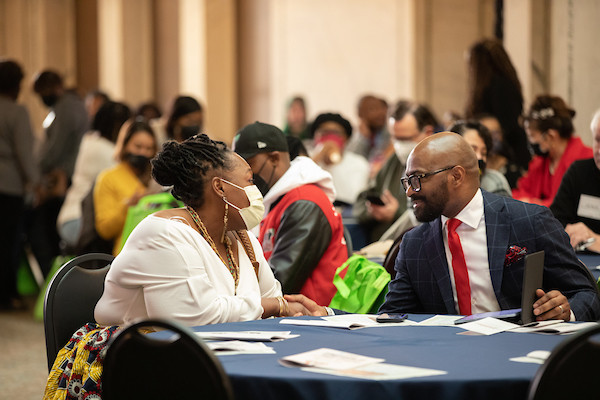 As an example, departments' place-based interventions aim to improve physical infrastructure, e.g., completing proactive streetscape evaluations, rapidly cleaning/greening vacant lots, and addressing identified maintenance gaps on the city's 5% most violent blocks; and using a new tree equity tool to help guide tree planting rather than relying on 311 calls. Place-based interventions also look to foster human infrastructure and connection in specific locations, e.g., revitalize and support block clubs; increase night-time events in the parks; and temporarily close streets for active play.
Departments adapting person-based strategies work to prioritize youth support, programming, or intervention for individuals and families at the highest risk of violence involvement, e.g., ensuring at least 50% of the 14–24 year-olds in the city's large summer jobs program have a known risk factor; launching an effort to connect all young people to out-of-school activities; investing in street outreach/violence interruption; and designating job opportunities for Chicagoans with prior justice system involvement. Departments are also implementing new approaches to crisis response that complement traditional law enforcement approaches, e.g., embedding mental health professionals in 911 response; coordinating and funding victim services; and diverting people arrested for narcotics possession from the criminal justice system into treatment.
Violence prevention and pre-crime intervention in Chicago combines community aspirations with city investments and assets to implement programs, social services, and changes to the built environment at a hyper-local block level. There's a very long way to go and obvious pressure and desire to see rapid results in a system not built for speed – meaning this work has been high-stress and not without conflict. But in Chicago, for the first time, the critical work of real coordination is being seriously addressed. And for the first time, "community safety is a public health issue" feels like a call to action rather than an empty talking point.
Special thanks to Allison Arwady, Sybil Madison, and the team at Chicago Department of Public Health for contributing this incredible story.