Coalition News
BCHC, ASTHO, and NACCHO awarded 2022 Fries Prize
November 2022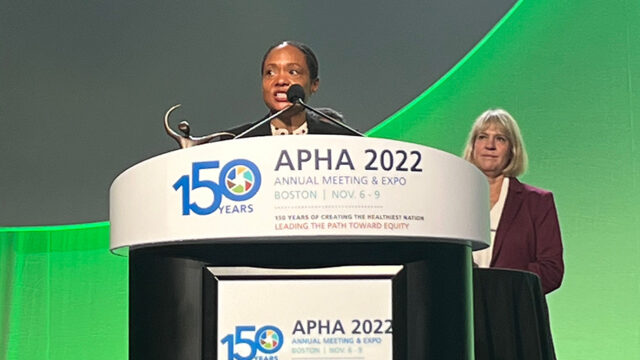 Three Public Health Organizations Honored for Their and Their Members' Lifesaving Impact Across the U.S.
Washington, DC — The Association of State and Territorial Health Officials (ASTHO), Big Cities Health Coalition (BCHC), and the National Association of County and City Health Officials (NACCHO) received the 2022 Fries Prize for Improving Health from the CDC Foundation. These organizations and the members they represent were honored for saving and protecting millions of lives, including during the unprecedented challenges of the SARS-CoV-2 (COVID-19) pandemic, the largest threat to health in more than a century.
The Fries Prize for Improving Health award was presented on November 7 at the American Public Health Association's (APHA) annual meeting in Boston. The award each year recognizes an individual or organization making major contributions to the improvement of public health with emphasis on recent contributions to health. It is intended for those who have done the most to improve health for the greatest number of people. This is the first time in the more than 30-year history of the award that three organizations simultaneously received this recognition. The only other organization to receive this honor was Doctors Without Borders in 2019. The monetary award for the Fries Prize for Improving Health is $60,000, which will be divided among the three organizations.
"Throughout the last few years, I've been privileged to work with members from these three organizations, and I have been amazed by their unwavering dedication and tremendous positive impact to the health of all Americans," said Judy Monroe, MD, president and CEO of the CDC Foundation. "ASTHO, BCHC and NACCHO represent some of the best that public health has to offer. Their members have been on the front lines of the COVID-19 response and working around the clock to address many other simultaneous health threats. I applaud them for all their efforts during the pandemic as well as their continued commitment in helping to keep us all safe every day."
During the COVID-19 pandemic, members of ASTHO, BCHC and NACCHO provided critical leadership and improved public health through capacity building and technical assistance to health departments across the country. They have led the public health response at the state, local and territorial levels, including developing and implementing prevention and mitigation measures, partnering with health systems, hospitals, community- and faith-based organizations, and other sectors as well as educating the public with science-based information.
"Despite the challenges, public health teams sprang in to action to protect people and communities from this pandemic," said Mysheika Roberts, MD, MPH, upon accepting the award for BCHC. Roberts is Columbus public health commissioner and BCHC board chair. "It was not easy work. It was emotionally and physically taxing for all of us. But the amazing work of our teams literally saved thousands of lives.
"ASTHO, BCHC, and NACCHO and their members have without question demonstrated their unprecedented and critical impact on protecting and saving the lives of millions of Americans and defending public health for the betterment of society," stated J. Nadine Gracia, MD, MSCE, president and CEO, Trust for America's Health, who helped champion ASTHO's, BCHC's and NACCHO's nomination for the Fries Prize. "I have worked closely with these organizations and witnessed the courageous and steadfast dedication they have to promoting health and well-being of communities throughout the nation and to advancing health equity so that every person has a fair and just opportunity to be as healthy as possible."
ASTHO, BCHC, and NACCHO are the nation's public health organizations that represent and serve the nation's state and territorial departments, America's largest metropolitan health departments, and local health departments, respectively. The public health officials who are members of these organizations serve to promote and protect the health and well-being of and prevent disease and death of people across the nation.
# # #