Frontline Blog
1 Million Lives Lost Cannot Be for Naught
April 2022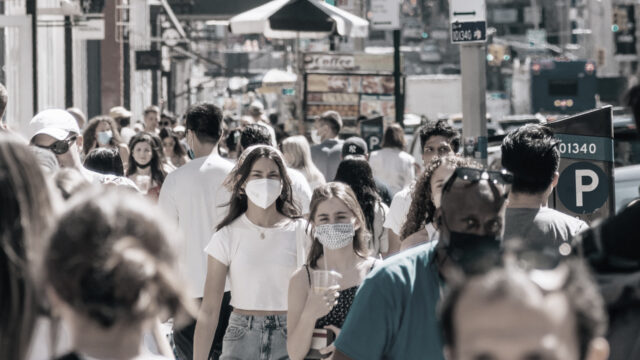 Big City Health Leaders Reflect on How to Prevent More Deaths
Very soon, the U.S. will reach one million recorded COVID deaths. It is a staggering statistic that is hard to comprehend. When health officials predicted such numbers two long years ago, many thought it outside the realm of the possible.
To try to understand this massive loss, we often reach for comparisons. More Americans have died from COVID-19 than have died in all combat since the Civil War. There have been nearly as many recorded deaths from COVID as there were deaths from all types of cancer in that same period.
"However one visualizes it, it's a tragic milestone," said Phil Huang, BCHC Chair-Elect and Director of Health in Dallas County, Texas.
"I spent all of 2020 saying 'this was preventable' and 'it didn't have to be this way,'" said Chrissie Juliano, Executive Director of BCHC. "And yet, here we are, 1 million (known) deaths later."
As difficult as 1 million deaths is to comprehend, COVID-19 has taken countless more Americans. We do not have a full count of those who died from COVID before we had widespread, accurate testing. In addition, we have experienced tragic impacts from pandemic-related stress. In 2020, for example, we lost nearly 100,000 Americans to alcohol-related deaths; that is a full 25% higher than in the previous year. Homicides also increased by 30 percent in 2020, the largest annual increase ever recorded.
Public health departments have been acutely aware of COVID's wide-ranging effects. "It's easy to think that those of us making decisions about the health of the public are immune to these other factors, or hadn't thought about them," said Mysheika Roberts, MD, MPH, BCHC Chair and Columbus' Commissioner of Health. "We did—perhaps every day in 2020 and perhaps even more so now." Public health is a discipline of science, based on data wherever possible, but it is also a "balancing act, and time will tell whether we managed to strike the right balance between COVID mitigation efforts and everything else," Roberts added.
Even as we roll back public health mitigation measures, we have our eye on the next surge. "We have learned much about this virus and know what we need to do now to prepare for the next surge or the next pandemic," said Allison Arwady, BCHC Vice Chair and Commissioner of Health in Chicago. "But," she added, "we will need continued resources from the federal government to do so."
The field of public health knows from experience how to prevent illness and death in the future, not just because of that knowledge Arwady references, but also because of the field's ability to prevent and reduce harm from the many other epidemics we have been struggling with for decades, including drug overdose and deaths related to substance use disorders, heart disease and diabetes associated with unhealthy food and unwalkable communities, and gun violence in too many of our nation's cities.
"Public health is all about prevention, by definition," Arwady added. "And yet, in this country, we have an unfortunate history of providing short-term funding only after a crisis hits—such as Zika, Ebola, or COVID—rather than making the predictable, sustained investments that ensure our public health system can both prevent disease and improve community health at baseline and pivot quickly to help prevent unnecessary deaths in future emergencies."
Right now, the White House and Congress are negotiating both supplemental dollars for the continued COVID response and routine appropriations for this fiscal year (which is already halfway over) and the next. If we want to have any hope of saving more lives—from COVID or these other health challenges—we must commit much more fully to health equity and public health as a field. Here is how we do that:
Begin to fix systems across city government that directly benefit or harm health, including how long and how well we live.
Examine how past policies, practices, analyses, reporting requirements, and performance measures have perpetuated injustices, including poor health outcomes.
Prioritize investments—including time, resources, funding, and people—in communities and neighborhoods that have long been ignored, disinvested, and harmed across decades, including by policies and practices implemented by city agencies. These are the areas where investments are most needed and where they will pay off the most.
Work to transform systems—both internal and external to government—so that equity and justice-focused practices (like collaborative governance and equity-informed data processes) are simply part of how the "work" gets done.
Many structural barriers inhibit health in our communities. COVID deaths happened not just because people of color had less access to vaccine—but also because they tend to be less healthy due in part to historic racism in, and distrust of, the American health system. So many deaths each year happen for entirely preventable reasons. Moving forward we need to do better as a nation on the prevention side of the equation. Public health saves lives (and money) by addressing health problems at their source. We help put policies and practices in place that give everyone the tools they need to thrive: affordable housing, clean water, accessible public transportation, green spaces, healthy food, and more. Equitable access to these resources will help us all better survive the next health crisis—and the routine ones—and build healthier, thriving communities in the meantime.