Frontline Blog
Vaccine Requirements are Working; We Need to Use Them for Air Travel
November 2021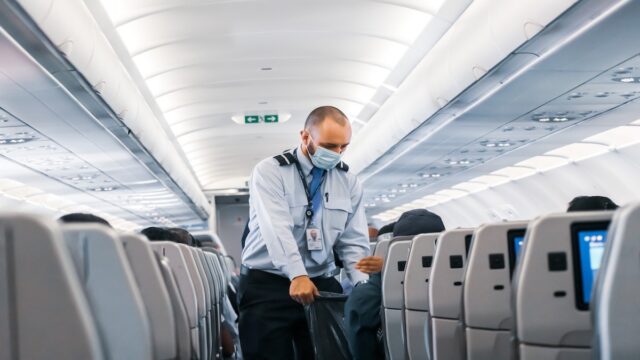 By Wilma J. Wooten, MD, MPH, Public Health Officer, County of San Diego Health and Human Services Agency
Vaccination rates are gradually increasing across the country. It has not been easy, but at the San Diego County HHS (the health department for the City of San Diego), we have successfully vaccinated 80.5% of the 2.4 million eligible population. To do this, we have relied on a multi-layered strategic approach by activating a diverse vaccination ecosystem through mass vaccination sites, community-based organizations, pharmacies, mobile vans, and various health care providers. In certain settings business or government entities are require members of our community to get vaccinated. Of course, there is still work to do.
A recent poll from the Kaiser Family Foundation found that 35% of respondents who were vaccinated after June 1 indicated that they had gotten vaccinated because they "want to participate in certain activities that require vaccination, such as going to a gym, an event, or to travel." The ability to take part in social activities with friends and family is a crucial factor in many people's decision-making process. What's more, data from a June 13-24 survey of San Diego County residents found that 87% of unvaccinated respondents felt it would be easy to get the vaccine, so access is no longer perceived to be a barrier. Policymakers should leverage this information for the greater good.
The U.S. Air Travel Public Safety Act (S.2888), introduced by Senator Diane Feinstein (D-CA), would require proof of vaccination, a negative COVID-19 test, or a full COVID-19 recovery within 90 days to travel anywhere in the U.S. by plane. Universal masking, put in place by the Transportation Security Administration (TSA), is the only blanket protection that exists for domestic travelers. Currently, individuals who are boarding a plane could actually be contagious with COVID-19 and not know it. This poses a significant risk to those at the airport and on the plane, as well as to people at their destination. While masking requirements do lower risk, when someone eats, drinks, or adjusts their mask, they can certainly transmit the virus.
Senator Feinstein's bill could help us fight COVID-19 on two levels, by persuading holdouts to get vaccinated AND offering a baseline of protection to travelers, airline staff, and others in the hospitality industry. This is smart public policy that could help save lives. Even with higher vaccinate rates, COVID-19 isn't going away any time soon. We must learn to live with the virus, and requirements are one way to do that.
To date, in the U.S., 78% of eligible adults have received at least one dose of a COVID vaccine. This is an achievement, but we still need to implement strategies that will help persuade more people to get vaccinated. A vaccination requirement for travel could help do that.
As the holidays approach, countless people will travel to be with friends and family, some for the first time since the pandemic began. As Senator Feinstein said, "We know that air travel during the 2020 holiday season contributed to last winter's devastating COVID-19 surge. We simply cannot allow that to happen again."
If passed by the U.S. Congress, this bill can offer travelers an additional layer of safety — and importantly — some peace of mind. We know vaccine requirements work, let's not hesitate to use them.