Press Release
Amid tripledemic, new study finds cities with sick leave have comparatively higher COVID vaccine rates
January 2023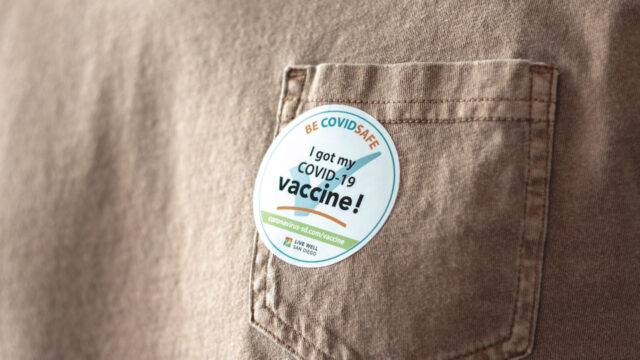 Data from 37 large cities analyzed by academic research team
FOR IMMEDIATE RELEASE / CONTACT Elizabeth Green, egreen@bigcitieshealth.org
WASHINGTON, D.C. – Data provided by the Big Cities Health Coalition was analyzed by a panel of public health academic experts in Health Affairs, showing that cities and counties with paid sick leave laws in place had higher rates of vaccination among the working age population than cities without paid sick leave. Paid sick leave provides workers with paid time off to receive COVID and other vaccines, and to recover from potential adverse effects from the vaccine.
This new research comes as the nation fights a "tripledemic" of COVID, respiratory syncytial virus (RSV) and influenza; and as labor disputes—such as the recent railroad labor union showdown that centered on workers' access to paid sick leave—threaten large sectors of the economy.
Key Findings
Researchers found that US cities with paid sick leave had higher COVID vaccination coverage and narrower coverage disparities than those without such policies. Using county-level vaccination data and paid sick leave data from 37 large US cities in 2021, experts found an association between city-level paid sick leave policies and vaccination coverage in the working-age population. Cities with a paid sick leave policy in place had 17 percent higher vaccination coverage than cities without such a policy.
They repeated the analysis using coverage in the population ages 65 and older, and found no relationship for this largely retired population that generally would not benefit from paid sick leave policies.
Using the CDC Social Vulnerability Index, researchers found even stronger associations between paid sick leave and vaccination in the most historically marginalized neighborhoods.
---
"As the nation stares down a 'tripledemic' of respiratory diseases: COVID, flu and RSV, we need to focus on how to prevent outbreaks from disrupting our communities, including schools, and the labor market," said Chrissie Juliano, Executive Director of the Big Cities Health Coalition. "This study shows that paid sick leave policies are associated with higher COVID-19 vaccination coverage and narrower coverage disparities among populations of color. Increasing access to these policies helps communities stay healthy and thriving."
"The people who are least financially able to miss work without pay if they or their families become sick, are also the least likely to have sick leave from their jobs," said the paper's lead author, Alina Schnake-Mahl, ScD, MPH, is an assistant research professor in the Department of Health Management and Policy and Policy Core co-lead at the Urban Health Collaborative at the Drexel Dornsife School of Public Health. "So paid sick leave policies are an important tool to help these the most vulnerable groups get vaccinated and stay home when sick."
Descriptive Statistics For 37 Large US Cities by Paid Sick Leave Policy Status, 2021
A number of states and cities enacted paid sick leave policies before and during the pandemic, and the federal Families First Coronavirus Response Act required certain employers with fewer than 500 employees to provide this leave for COVID-19-related reasons in 2020. However, many of these temporary policies expired by the time vaccines became available, and the federal requirement was replaced with voluntary employer tax credits for providing employees with paid sick leave.
Study Data and Methods
Study Setting
Researchers obtained data from 44 of the largest US cities with cities as the unit of analysis. Excluding several municipalities because of data issues, they used a study sample of 37 (see appendix exhibit 3 for a list of cities). To explore vaccination coverage disparities, they obtained neighborhood-level vaccination coverage rates, proxied by ZIP Code Tabulation Areas (ZCTAs), for the 16 cities in their sample that had ZCTA-level vaccination data.
Outcome
Researchers used weekly city (or county) vaccination rates, made publicly available by the US Centers for Disease Control and Prevention (CDC) and reported from January 1, 2021, to December 30, 2021.
The outcome was full vaccination coverage, defined as the cumulative population share that had received two Pfizer or Moderna or one Janssen/Johnson & Johnson vaccine dose by the end of each period. They used data on vaccination coverage for the population ages 18–64 for the main analysis, as this is the working-age population—the population most likely to be employed and therefore most likely to be affected by paid sick leave policies.
They studied city paid sick leave policies, or policies that provided employees with paid time off work to address their own health needs, as well as the health and well-being of family members. They excluded laws that applied only to specific employee types or sectors such as police officers, teachers, or service workers.
The cities studied were: Albuquerque, Atlanta, Baltimore, Boston, Charlotte, Chicago, Cleveland, Columbus, Detroit, Fresno, Indianapolis, Jacksonville, Kansas City, Las Vegas, Long Beach, Los Angeles, Louisville, Memphis, Mesa, Miami, Milwaukee, Minneapolis, Nashville, New York City, Oakland, Oklahoma City, Philadelphia, Phoenix, Portland, Sacramento, San Diego, San Francisco, San Jose, Seattle, Tucson, Virginia Beach, and Washington, D.C.
The Big Cities Health Coalition (BCHC) is a forum for the leaders of America's largest metropolitan health departments to exchange strategies and jointly address issues to promote and protect the health and safety of the more than 61 million people they serve. Together, these public health officials directly affect the health and well-being of nearly one in five Americans.
###