Marvia Jones, PhD, MPH
March 2022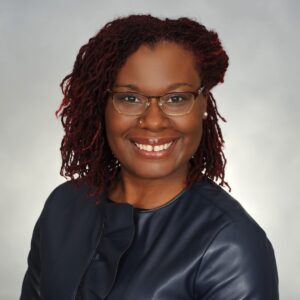 Dr. Marvia Jones sits as the first African American women Director for the Kansas City Health Department, appointed February 2022. Dr. Marvia Jones earned her Master of Public Health and PhD in Community Behavioral Psychology from the University of Kansas. She has worked in many areas of the community over the past 10 years, including community development, behavioral health, program evaluation, and violence prevention. Dr Jones has a passion for supporting the development of strong, healthy families and neighborhoods, and exhibits that in her strength, kindness and willingness to help others. She currently holds a seat on the Kansas City School Board, where she utilizes her experiences in public health and as a community behavioral psychologist to create positive change within the schools and the surrounding communities. In her time with the Kansas City Health Department, Dr. Jones has held the leadership role as the Violence Prevention and Policy Manager, and Division Manager for the Community and Family Health Education Program. In these roles, Dr. Jones worked to improve collaboration between community sectors across the city and throughout the department, by working towards achieving more effective family and youth-based violence prevention strategies.
Prior to her start with the Health Department, Dr. Jones served as a United States Centers for Disease Control Evaluation Fellow at the agency's headquarters in Atlanta, GA. As a fellow, she assisted with the rollout of national funding proposals, served as a facilitator for strategic planning initiatives, and developed violence prevention resources for state and local grantees. Dr. Jones has drawn from each of these experiences to help push forward the vision of Public Health.
Dr. Jones was born and raised in Jacksonville, FL. However, considers Kansas City, MO to be her beloved adoptive home, where she resides with her husband (a Kansas City native) and their two young sons.