Press Release
In Big Cities Men Die of Opioid Overdoses More than Women
June 2016
FOR IMMEDIATE RELEASE: June 28, 2016
Many Urban Areas Outpace the National Opioid Death Rates, But are Aggressively Tackling the Epidemic
Washington, D.C. – The Big Cities Health Coalition (BCHC) released data today showing that men who live in the largest, most urban cities are dying in greater numbers of unintentional opioid overdoses than are women. These 11 cities also reported higher deaths rates from opioids than the U.S. as a whole. Negotiations are also currently underway in the U.S. Congress to address the epidemic.
The data are sourced from the Big Cities Health Inventory data platform, an online resource that compiles unique public health statistics for 28 large American cities. These data are from 2013 and include all races. The 11 cities included are: Atlanta (Fulton County), GA; Boston, MA; Denver, CO; Houston, TX; Kansas City, MO, Las Vegas (Clark County), NV; Miami (Miami-Dade County), FL; Minneapolis, MO; New York City, NY; San Antonio (Bexar County), TX; and San Diego County, CA. The rates are age-adjusted, per 100,000 people.
"There is mounting evidence from across the country that illustrate opioid-related deaths are a serious public health problem in America; these data show it is especially acute among men in the nation's largest cities, " said Chrissie Juliano, MPP, Director of the Big Cities Health Coalition. "The good news is that public health experts in cities all over the country are addressing the opioid crisis in innovative ways, and are getting positive results. It's time for Congress to show the same commitment to addressing this far-reaching public health problem, because these deaths are preventable if we give local health departments the tools to stop them."
The available data for BCHC members in 2013 can be found below, with additional years available on the data platform.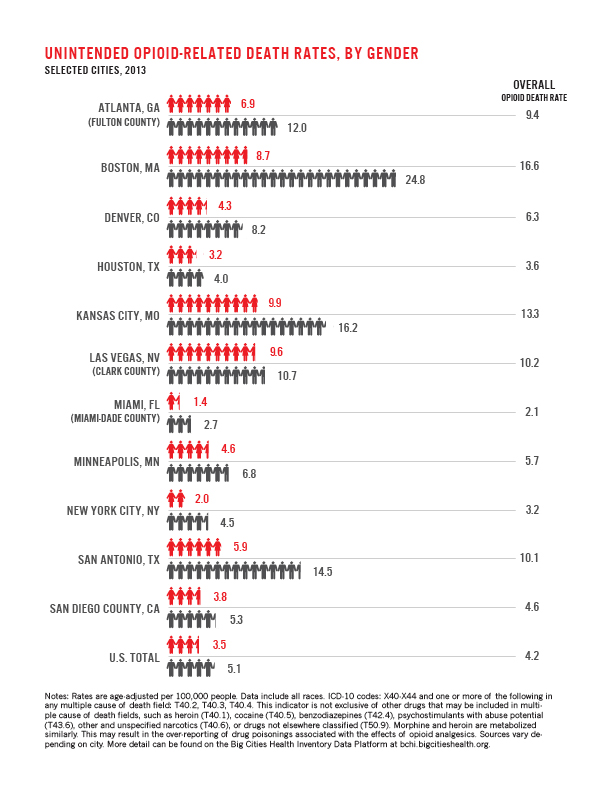 A number of cities in the Coalition are using innovative programs and policies to reduce opioid deaths, including Baltimore, whose Health Commissioner, Dr. Leana Wen, published a blog on the Coalition's website today detailing actions she and her health department have taken to prevent opioid overdoses. Wen discusses the standing order— a blanket prescription—she issued to make an antidote called naloxone available to all 620,000 residents of Baltimore. Since 2015, her department has trained over 10,000 people to use naloxone, including members of the police force, who have in turn saved the lives of 30 residents in just the past six months.
This public health problem has taken a great toll on the United States in recent years. According to the Centers on Disease Control and Prevention, opioids (including prescription opioid pain relievers and heroin) killed more than 28,000 people in 2014, more than any year on record. At least half of all opioid overdose deaths involve a prescription opioid.
In Congress, the House and Senate are continuing to negotiate the "Comprehensive Addiction and Recovery Act" (S. 524), or CARA, and a package of other bills. BCHC is urging them to act quickly to reach consensus on a way forward to address the opioid epidemic as well as to provide robust resources to ramp up prevention, treatment, and recovery services.
###

About the Big Cities Health Coalition
The Big Cities Health Coalition (BCHC) is a forum for the leaders of America's largest metropolitan health departments to exchange strategies and jointly address issues to promote and protect the health and safety of their residents. Collectively, BCHC member jurisdictions directly impact nearly 62 million people, or one in five Americans. For more information, visit https://www.bigcitieshealth.org.