Press Release
Big Cities Health Coalition Applauds U.S. House of Representatives for Introducing Universal Background Check Legislation
January 2019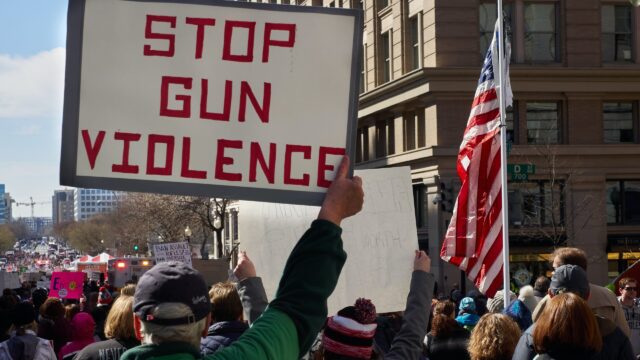 FOR IMMEDIATE RELEASE: January, 8, 2019
Chrissie Juliano, MPP, Executive Director, issued the following statement:
WASHINGTON, D.C. – Today the Big Cities Health Coalition (BCHC) commended Speaker of the House Nancy Pelosi (CA-12) and Representative Mike Thompson (CA-5) for introducing a bill to require background checks on all firearm sales and transfers. The move comes on the eighth anniversary of the shooting of former Congresswoman Gabby Giffords.
"We are so pleased that the U.S. House of Representatives is introducing this legislation, an important first step in making our communities safer," said Chrissie Juliano, Executive Director of the Big Cities Health Coalition. "Gun violence is an epidemic, killing more than 40,000 people in 2017. Half of all homicides happen in cities, and our members know firsthand the impact that violence has in communities across the nation. Universal background checks are overwhelmingly supported by the public at large, but it is not a panacea. We look forward to continuing to work with Congress on additional common-sense reforms, and critical funding for gun violence research. We urge the House to quickly pass this bill."
Last month, BCHC joined the Giffords Law Center and other public health organizations in urging the new Congress to fund research into gun violence at the Centers for Disease Control and Prevention (CDC). Research is key to creating policies that will begin to curb the epidemic of gun violence facing cities and communities across the country. The CDC is ready to act on this vital research once Congress appropriates funding.
CONTACT: Max Mays mays@bigcitieshealth.org or 913-233-6830
###

About the Big Cities Health Coalition
The Big Cities Health Coalition (BCHC) is a forum for the leaders of America's largest metropolitan health departments to exchange strategies and jointly address issues to promote and protect the health and safety of their residents. Collectively, BCHC member jurisdictions directly impact nearly 62 million people, or one in five Americans. For more information, visit https://www.bigcitieshealth.org.