Press Release
Seven Rising Leaders at BCHC Health Departments Named to "40 Under 40 in Public Health"
September 2021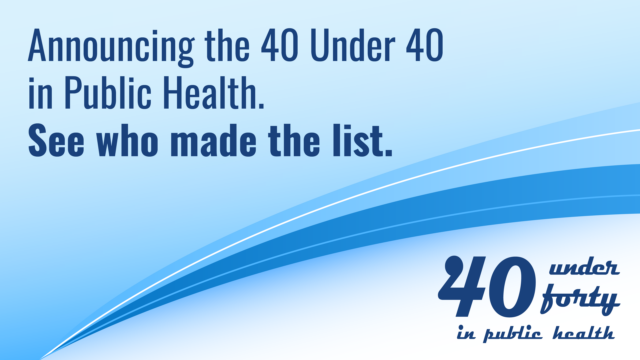 de Beaumont Foundation Announces 2021 Class of "40 Under 40 in Public Health"
September 14, 2021
Contact: Max Mays, mays@bigcitieshealth.org
Bethesda, MD- The de Beaumont Foundation today announced its second list of "40 Under 40 in Public Health," recognizing rising leaders who are improving the health of communities across the country. Representing government agencies, nonprofits, and academia, these professionals are epidemiologists, researchers, policy analysts, and more, who are tackling not just the COVID-19 pandemic, but also enduring health challenges like obesity and chronic disease, opioids and substance use disorder, HIV and STDs, health equity, and more.
Seven of the new "40 Under 40" currently serve in Big Cities Health Coalition (BCHC) member health departments:
"We're delighted that these incredibly hard-working public health professionals who sit in BCHC member health departments are being recognized," said Chrissie Juliano, MPP, executive director of the Big Cities Health Coalition. "From responding to the COVID-19 pandemic to dealing with ongoing and emergent threats to our health, these rising leaders in our field dedicate their careers to advancing equity and health in their communities. I look forward to the "40 Under 40s" having an impact for years to come."
For more information about the honorees and their accomplishments, visit www.debeaumont.org/40Under40.
###
About the Big Cities Health Coalition
The Big Cities Health Coalition (BCHC) is a forum for the leaders of America's largest metropolitan health departments to exchange strategies and jointly address issues to promote and protect the health and safety of their residents. Collectively, BCHC member jurisdictions directly impact nearly 62 million people, or one in five Americans. For more information, visit https://www.bigcitieshealth.org.