Frontline Blog
How health departments are addressing substance use disorder and overdose during a pandemic
May 2021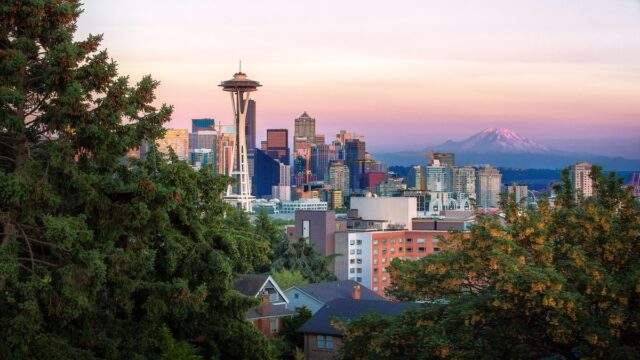 By Brad Finegood MA, LMHC, Strategic Advisor and Felicia Salcedo, Program Manager, Public Health – Seattle & King County
COVID-19 has necessitated an all-hands-on-deck approach for health departments across the country. The scale and urgency of this effort cannot be overstated.
Even as health departments and the public at large are focused on COVID-19, the Centers for Disease Control and Prevention (CDC) recently acknowledged that substance use and overdoses are critical issues that require continued attention and response.
Communities are facing an acceleration in the rate of fatal drug overdoses. The CDC estimates that more than 88,000 people died of drug overdoses from September 2019 to August 2020 — the highest number of overdose deaths ever recorded in the U.S. in any 12-month period. In Seattle-King County, drug overdoses have followed this national trend.
Driving much of the increase in local overdoses over the past five years has been the introduction of fentanyl in counterfeit pills. The blue counterfeit pills marked with "M30," often referred to as "oxys" or "percs," are made to mimic the look of Oxycodone Hydrochloride, a less potent opioid available by prescription. In Seattle-King County, there were three fatal overdoses in 2015 that included fentanyl. In 2020, preliminary certifications indicate there were 176 fentanyl-related deaths.
Fentanyl-involved deaths during COVID
At this point, we do not know the full impact COVID-19 is having on substance use or misuse in our communities. It is a complex picture. What we do know is that overdoses have increased substantially during this period and continue to rise in 2021.
Public Health – Seattle & King County looked at data from the six months before and after March 2020, when as a result of the pandemic, social gatherings, schools, and other community institutions had to adjust in-person protocols. Fentanyl-involved deaths increased 68% from 212 overdoses between September 2019 and February 2020 to 276 overdoses from March 2020 to August 2020.
There are likely several contributing factors to the increase:
COVID-19 has hampered people's ability to connect with critical in-person supports. It has been more difficult to access recovery supports, like in-person groups, treatment, and other harm reduction resources.
Based on local drug seizures by law enforcement, it appears that the supply of drugs has increased, especially fentanyl-laced counterfeit pills.
Increased rates of depression and anxiety associated with COVID-19 can also lead to an increase in substance use or misuse.
As is the case for many local health departments, the impact of fentanyl has raised particular concern in Seattle-King County for at least three reasons: 1) People may not know that a pill contains the deadly drug; 2) the amount of fentanyl within the same batch or even within a single counterfeit pill can vary greatly, making it extremely difficult for someone to regulate their use; and 3) fentanyl is extremely lethal on its own, and the combination of fentanyl with other drugs such as benzodiazepines also increases the risk of overdose.
Steps health departments can take
Despite the challenges, public health departments can leverage innovations that are taking place to address the COVID-19 pandemic and use those same strategies to prevent and reverse overdoses.
Sustain easier access to medications to treat SUD and prevent overdose and death.In some cases, access to medications that treat opioid use disorder have become more available. Due to changes in federal regulations, providers can now start people on medications such as buprenorphine through telemedicine. In Seattle-King County there are over 160 providers waivered to provide buprenorphine in the community. It is our hope that the ability to conduct initial and follow up telemedicine appointments will be continued once the COVID restrictions are lifted.
Public Health – Seattle & King County has also made buprenorphine initiation available in COVID-19 isolation and quarantine facilities. Meeting people where they are in offering treatment is an important strategy that should continue even after this current stage of the pandemic.
Leverage new partnerships for naloxone distribution. Public Health – Seattle & King County has forged new partnerships with community organizations during COVID-19, increasing access to naloxone. Putting naloxone in the hands of individuals using opioids increases the likelihood that an overdose can be reversed. Health departments can play a crucial role in naloxone distribution by implementing strategies such as secondary distribution through peers, naloxone access via the mail, naloxone vending machines, and distribution at critical access points (jails, hospitals, detox centers and syringe service programs).
Use new communications tools in place for COVID-19 for drug alerts. COVID-19 has required health departments to get new information out to the community with increased urgency. Using these new tools, Public Health – Seattle & King County has set up an email and text alert line to inform people who use drugs and service providers when there is an increase in overdoses or a new drug trend in the community.
Develop public health messaging around drug trends like fentanyl. Public Health – Seattle & King County has developed a youth-focused campaign called "Laced and Lethal" to inform young people about the risk of fentanyl in counterfeit pills. We plan to develop an adult-facing campaign in the months ahead.
Looking ahead
At this point, we do not know the full effect COVID-19 is having on substance use or the long-term consequences our communities may face. But our work in public health will continue to lower barriers and expand access to life-saving treatment and medications. We must continue to address inequities in care and disparities in outcomes for BIPOC communities. Importantly, we must ensure our work is hand-in-hand with community-based organizations and is informed by the expertise of people who use drugs to continuously improve our systems of care, dispel stigma, and decrease barriers.