Frontline Blog
Houston Health Department sets the bar for tracking mpox, COVID
August 2022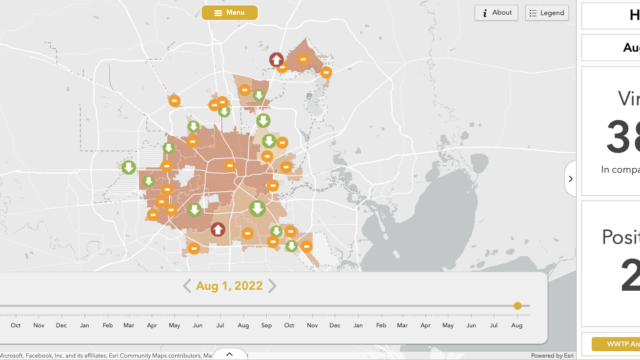 Wastewater Surveillance Program Named a National Center of Excellence by CDC
Earlier this month, Houston Health Department became one of only two jurisdictions in the country to be recognized by CDC as a National Wastewater Surveillance System Center of Excellence. (The other is the Colorado Department of Public Health and Environment.)
It's a well-deserved recognition: as early as March 2020 Houston led the pack in monitoring the city's wastewater for SARS-CoV-2, the virus that causes COVID-19. Houston Health director Stephen Williams and Rice University environmental scientist and statistician Dr. Loren Hopkins rapidly gathered a team to connect health department and university lab capabilities with samples from Houston Public Works.
Today, Houston Wastewater Epidemiology monitors SARS-CoV-2 at 39 wastewater treatment plans, 73 manholes, and 63 lift stations, representing more than 2 million people across Houston. And they recently announced plans to begin monitoring these same sites for mpox virus.
Why wastewater
Wastewater surveillance as a tool is not new. Since the 1940s, epidemiologists have previously tracked poliovirus, norovirus, influenza, and pharmaceuticals.
The advantages of layering wastewater data into the health department's broader data ecosystem are clear. Above all, wastewater data helps provide a quicker, more accurate picture of where and how widely viruses have spread in a community. Testing does not capture the full scope of a disease's spread, since not everyone who has a virus gets tested and not everyone who tests positive reports it. Also, by the time someone has gotten tested, and the results are returned and reported, the person who has the virus may have been sick for days or even weeks – whereas wastewater will immediately contain virus from that person.
Because the water samples come from all over the city, the health department can also pinpoint which zip codes are experiencing increases of a virus. The health department can then focus more messaging, testing, and other resources in those neighborhoods. For example, when they detect increased virus in a school's water supply, Houston Health notifies the school nurse so they can take appropriate prevention measures and share the information with students, staff, and parents. Houston Health Department maintains a public dashboard so everyone can benefit from the data – including Houstonians who might want to decide when and where it's most important to wear a mask.
Since 2020, many other big city health departments (including Austin, Chicago, Dallas, Las Vegas, Los Angeles, Minneapolis, New York City, San Diego, and Tucson) have added COVID-19 wastewater surveillance to their mandate. And when mpox first arrived in the U.S., health department wastewater surveillance was sometimes the first to pick up the virus' arrival in a city (e.g., in San Francisco).
Advice for other health departments
Dr. Hopkins, who is now Houston Health Department's chief environmental science officer, notes that while there are certainly start-up costs when setting up a wastewater surveillance program – including the time it takes to coordinate with public works, academic experts, and laboratories – the approach ends up being more efficient than other methods of tracking disease. Also, once the system is in place, it is relatively simple to add monitor of other diseases and/or pharmaceuticals.
She strongly recommends housing the surveillance program in the health department so the data can be integrated with other data sources such as syndromic or mortality data. Smaller cities might consider partnering with a larger laboratory (such as a state lab) to save on costs. Houston Wastewater Epidemiology has published a "best practices" document on its site that provides more detailed guidance about sampling, assaying, analysis, and more.
Federal support is also available for local health departments wishing to start their own wastewater surveillance programs. FDA used funding from the American Rescue Plan to develop protocols and software for analyzing wastewater samples. The public dashboard the launched in May shows the 20 labs across 11 states that are participating in FDA's COVID-19 wastewater surveillance project. CDC's National Wastewater Surveillance System (NWSS, launched in September 2020) provides technical assistance and peer-to-peer support for health departments who want to start their own surveillance programs. After a case of polio was detected in New York state in July, CDC announced plans to pilot a wastewater surveillance testing program for that disease as well.