Frontline Blog
"Back to School" Season: Backpacks, school supplies and cancer prevention
August 2017

By Dr. Julie Morita, Commissioner of Health, Chicago Department of Public Health
Flipping my calendar from July to August, always yields a sense of melancholy as I can see the less structured, long, warm days of summer rapidly disappearing and the busy, regimented, new school year entering into sight. While many people overcome the sorrow of the summer ending with "Back to School" shopping for backpacks, new clothes and school supplies, since becoming a pediatrician almost 25 years ago, I have sought consolation in knowing that "Back to School" means that millions of school-aged children throughout the US will be receiving health examinations and vaccines, which prevent serious diseases including measles, mumps, whooping cough, and polio.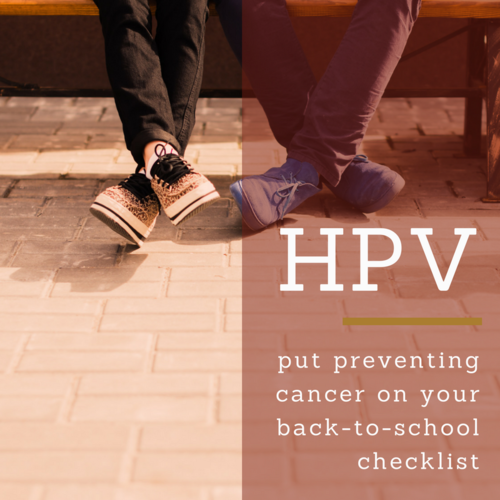 This onslaught of patients to healthcare providers is triggered by state requirements for students to provide documentation that they have received health examinations and these life-saving vaccines before they can attend school. These vaccine requirements are examples of some of the most effective public health interventions of all time; they have led to record high vaccine coverage and near elimination of many diseases. Unfortunately, one very important, cancer-preventing vaccine is not required in most school districts and as a result many pre-teens and teenagers don't receive the human papillomavirus (HPV) vaccine when they go to their "Back to School" clinic visits.
According to Centers for Disease Control and Prevention (CDC), the nation's leading public health agency, Human papillomaviruses (HPV) are the most common cause of cervical cancer. Although most sexually active people will be infected with HPV, most will never know they are infected because the infections resolve on their own. Nonetheless, nearly 40,000 individuals per year are diagnosed with HPV-related cancers.
Since 2006, the CDC, has recommended that all girls receive the first dose of this life-saving, cancer-preventing vaccine, and three years later, the CDC expanded the recommendation for all boys to receive their first dose of the vaccine at age eleven. As with most routinely recommended vaccines, most of those who are vaccinated will never fully appreciate the value of the vaccines because it is unlikely they will ever experience the diseases the vaccines prevent. It is more likely that those who are diagnosed with cervical, penile, head and neck cancers will look back with regret to the time when they did not get vaccinated.
As a pediatrician and public health official, I (and my children) have an unfair advantage because I know how great the HPV vaccine is. I know it is safe, effective, and that eleven is a great age to start the vaccine series. Vaccinating at eleven results in a strong immune response and provides protection before most students are exposed to the human papillomaviruses. As a result, I made sure that my children were vaccinated as soon as they could be.
Unfortunately, many parents do not know how great this vaccine is and their children have not been vaccinated. To address this problem, many health departments, including the Chicago Department of Public Health, have implemented comprehensive public awareness campaigns to educate physicians about how to discuss the benefits of the vaccine with parents and children and to raise awareness of the vaccine among parents through radio, television, billboard and online advertisements. Chicago's program resulted in a 20 percent increase of teenage girls who had received their first dose of the HPV vaccine series. Nonetheless, nationally, more than 30% of teenage girls and more than 40% of teenage boys have not yet started the vaccine series and remained unprotected from several forms of cancer. That is bad news.
The good news is that it is not too late for these unprotected preteens and teens to be protected and "Back to School" season is a great time for them to get vaccinated. Although it is optimal for preteens to be vaccinated at 11-12 years of age, the series can be started at any time through 26 years of age and doses do not need to be repeated if the series is interrupted. Clinics throughout the United States are bracing themselves for the rush of students needing health examinations and required vaccines; HPV vaccines should be among the first vaccines offered to all preteens and teens who have not already been fully vaccinated. Although HPV vaccine is not required for school entry in most states, it is just as important as the required vaccines like measles, mumps, whooping cough and polio and many other vaccines.
If you are a healthcare provider, please remember to review your patients' vaccination records and recommend the HPV vaccine along with the vaccines required for school entry. If you are a parent or a preteen or teen, ask your healthcare provider about the HPV vaccine. Together, let's make this "Back to School" Season the time we protect all preteens and teens from HPV-related cancers.