Frontline Blog
City health officials discuss early rollout of bivalent boosters
October 2022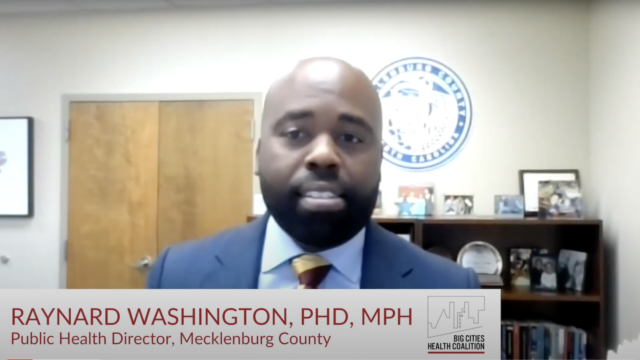 At a recent media briefing hosted by the Big Cities Health Coalition, two local health officials from major metropolitan health departments discussed the local rollout of the bivalent booster vaccine for COVID-19.
The following experts described how local jurisdictions distribute COVID-19 vaccine and why the numbers vaccinated so far have been relatively low:
Chrissie Juliano, Executive Director, Big Cities Health Coalition
Raynard Washington, PhD, MPH, Mecklenburg County Public Health Director
David Persse, MD, Health Authority and Chief Medical Officer in Houston, TX
Juliano noted that while big city health departments know how to respond to infectious disease outbreaks and other public health crises, we need to do more to support their efforts. "BCHC and our partners continue to urge Congress to not only fund the continue COVID response and allocate resources for the MPX outbreak, but also to fund the governmental public health system at predictable and sustained levels to strengthen the infrastructure needed to protect and promote the public's health," she said.
In the meantime, Washington and Persse both urged members of the public to take advantage of all available vaccines. "We've been working with our community partners, our pharmacies, and our own clinics to make sure that we have … a one-stop shop set up … where we're able to give folks their flu shot and their COVID booster at the same time," Washington said.