Veerinder (Vinny) Taneja, MBBS, MPH
June 2021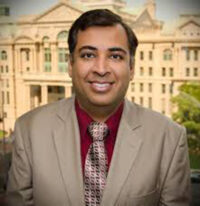 Vinny Taneja has served as Health Director for Tarrant County Public Health since September 2014. He brings to the department 13 years of experience in public health and healthcare at the local, regional and state levels.
Most recently, Taneja served as the Deputy Health Officer for a large urban county health department in Michigan.
He received a medical degree (MBBS) from Manipal Academy in India. He then pursued his passion for public health by obtaining a Masters in Public Health (MPH) at Eastern Kentucky University in Richmond, Kentucky.
In 2006, Taneja served as an ambassador to Wisconsin Governor's e-Health Initiative. He helped develop a strategic plan for statewide adoption and exchange of electronic health records.
Taneja graduated as a fellow from Mid-America Regional Public Health Leadership Institute (MARPHLI) at UIC Chicago. His focus was on Public Health Leadership under the Affordable Care Act.