Coalition News
BCHC is hiring: Director of Public Health Data
June 2023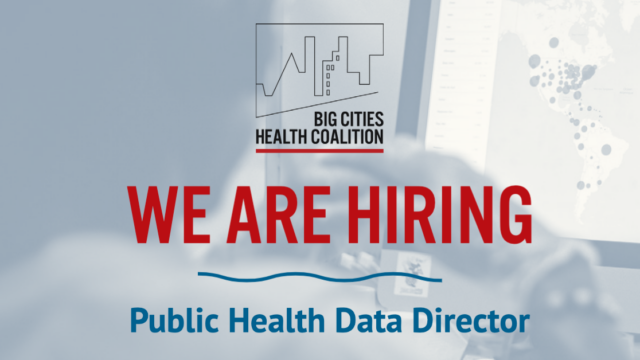 Who We Are
The Big Cities Health Coalition (BCHC) is a forum for the leaders of America's largest metropolitan health departments to exchange strategies and jointly address issues to promote and protect the health and safety of the more than 61 million people they serve. Together, these public health officials directly affect the health and wellbeing of one in five Americans. Our vision is to create healthy, more equitable communities through big city innovation and leadership. Through our work, we aim to advance equity and health for present and future generations.
Position Overview – What You'll Do
The Director of Public Health Data will report to the Executive Director (ED). This position is grant-funded, full-time, and based in the D.C. metro area. Our team is currently fully remote but meets in person several times a year; those of us who live in the D.C. metro area meet more often.
The Director will lead BCHC's data efforts, supporting and participating in the provision of direct technical assistance as it relates to data modernization; sharing subject matter expertise with the BCHC team, members, and relevant stakeholders; working with our data platform team; and developing and supporting data modernization strategy and implementation efforts at the national level. This position will also work to ensure members and partners have the necessary knowledge, skills, and abilities to use new technologies, standards, and strategies meant to improve the collection, interpretation, and dissemination of data for decision making.
The ideal candidate will have experience working in or with local/state/federal governmental public health departments and be interested in and knowledgeable about "nontraditional" health data.
Responsibilities
Data Modernization Thought Leadership
Capacity Building and Technical Assistance (TA)
Data Platform and Metrics Development
Who You Are
You are a pragmatic, results-oriented, hands-on team member. To be successful, you are also:
What You Bring
What We Offer Our Team
The salary for this position starts at $105,000 and is commensurate with experience.
We are a small, nimble, hardworking staff, with a collegial work environment. Our generous benefits package includes:
How to Apply
To apply, please send a resume and cover letter with "BCHC Dir PH data" in subject line to resume@hri-online.com.